2014/15 Annual Report
January 13, 2016
Dear friends,
We are pleased to announce the release of our 2014/15 Annual Report (HERE).  You can also review our 2014-15 IRS 990 Form.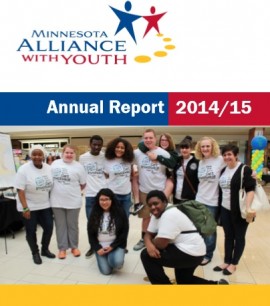 The 2014/15 year at Minnesota Alliance With Youth was an exciting one.  For the first time ever in our state, the overall high school graduation rate exceeded 80%, and every student subgroup saw a graduation rate of above 50%.  While this was an important milestone for our work, it is also a great reminder of the challenges left to overcome to ensure that ALL youth have the opportunities and freedom to ignite their spark.
We know what it takes to help youth succeed in school and graduate.  The research is clear.  Youth who have comprehensive support that starts in early childhood and continues on into middle and high school see higher graduation rates.  Wraparound support in all areas known as the "Five Promises" (Caring Adults, Safe Places, Effective Education, a Healthy Start, and Opportunities to Help Others) needs to be present for youth from cradle to career.  To fully experience the power of the Promises, young people must experience these critical supports throughout their lives – in their families, at schools, and in their communities.
Engaging youth as active members of their communities and helping ALL youth graduate from high school will require a comprehensive, community- and systems-wide approach; our strategy and mission at Minnesota Alliance With Youth.  We hope that our 2014/15 Annual Report will give you insight into the strides being made by our three key initiatives; GradMinnesota, AmeriCorps Promise Fellows and the Minnesota Youth Council.  Together with our partners, collaborators and supporters, our work is shining a light on the amazing young people that call Minnesota home.
In partnership,
Sarah Dixon, President & CEO
Essence Blakemore, Board Co-Chair
Julie Plaut, Ph.D., Board Co-Chair