AmeriCorps Promise Fellow Week
June 1, 2015
Join Minnesota Alliance With Youth & Massachusetts Promise Fellowship for AmeriCorps Promise Fellow Week: June 22-26, 2015
Follow the festivities with Minnesota Alliance With Youth on facebook, twitter and instagram and Massachussets Promise Fellowship on facebook and twitter AND by searching for #PromiseFellow 
MONDAY: Thank a Fellow- hear messages of thanks to Promise Fellows from youth, supervisors, community members and elected officials.
Want to share your own message of thanks to Promise Fellows in your community?  Scroll down for sample Facebook and Twitter messages! 
TUESDAY: Great Stories- get inspired by fantastic stories of service and life after AmeriCorps!
WEDNESDAY: A Day in the Life- follow along with "the Nicoles" from Burnsville, as they live tweet a day in the life of an AmeriCorps Promise Fellow!
THURSDAY: #ForeverPromiseFellow– Promise Fellow Alumni get involved on social media:
"Being an AmeriCorps Promise Fellow Alumni means…"
"I am a proud #ForeverPromiseFellow because…" (I was hired by my host site, I still utilize the skills I learned during my service…) (use THIS SIGN if you'd like to do this as a selfie!)
Share your #ForeverPromiseFellow Facebook profile image for Alumni and your favorite service photos (and tag your friends!)
FRIDAY: Promise Fellows Can Do It! – "Rosie the Riveter" style selfies with AmeriCorps Promise Fellow temporary tattoos (contact Kate at ksuchomel@mnyouth.net to get your tattoo!)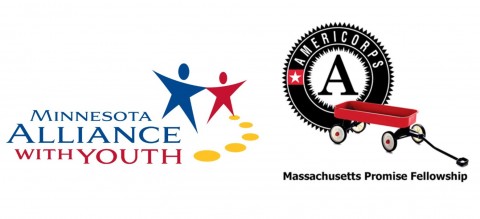 Sample Facebook messages: Today, during Promise Fellow Week, I'd like to thank all of the AmeriCorps Promise Fellows dedicating a year of service to help Minnesota and Massachusetts  youth succeed!  The impact you make is tremendous!  #PromiseFellows
AmeriCorps Promise Fellows dedicate a year of service to youth in grades 6-10 struggling with school attendance, behavior and academics.  Today, during Promise Fellow Week, I'd like to send a special message of thanks for your dedication to ensuring that ALL of our youth succeed!  #PromiseFellows
Sample Twitter messages: Thank you to the AmeriCorps #PromiseFellows serving youth in MN & MA!  Your impact and dedication is tremendous! @mnyouth @masspromise
It's AmeriCorps #PromiseFellow Week!  Thank you to all of the @AmeriCorps Promise Fellows that served this year, helping our youth succeed!