2016-17 Minnesota Youth Council Members Officially Sworn In
September 26, 2016
2016-17 Minnesota Youth Council MEmbers Officially Sworn In bY Judge Laura Nelson
On Sunday, September 25, Minnesota Alliance With Youth hosted a Swearing In Ceremony at the Holiday Inn Bloomington to honor the new and returning members of the Minnesota Youth Council.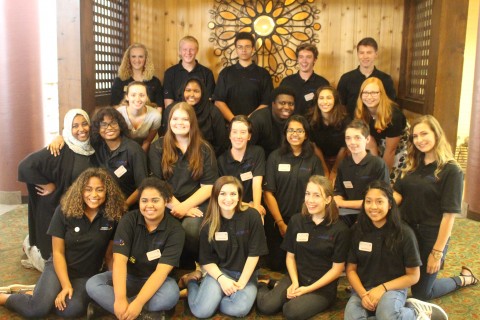 The Minnesota Youth Council, a collaboration made up of youth and adult partners from each of the eight Minnesota Congressional districts, provides young people with a forum to exercise their voice by connecting and mobilizing youth voice and action through partnerships with the Minnesota Legislature,Youthprise, and the Minnesota Department of Education.
Second District Judge Laura Nelson led the young leaders in the Minnesota Youth Council pledge, which committed members to providing advice and recommendations to the legislature and the governor on issues affecting youth and serve as a mentor for political education in their community.  Participants heard from Ilhan Omar, an alumna of the AmeriCorps VISTA program, who served a term with Minnesota Alliance With Youth.  Omar is the Democratic candidate for Minnesota House seat 60B, positioned to become the first-ever Somali-American legislator in the United States.  Omar spoke to the importance of youth participation and voice in decision-making, and praised the young leaders for their commitment to community leadership and equity.
In 2013, the Minnesota Legislature passed into law the Minnesota Youth Council Committee Bill, which establishes the Minnesota Youth Council as a voice for youth to provide advice and recommendations to the legislature and the governor on issues affecting youth. The Minnesota Youth Council Committee selects bills in the House and Senate for consideration for a public hearing, proposes youth legislation, provides advisory opinions to the legislature on bills heard before the committee and prepares a youth omnibus bill.
The Minnesota Alliance With Youth is one of Minnesota's leading conveners, collaborators and capacity-builders for youth development, working with and for youth to ensure that all young people have access to five fundamental resources proven to ensure that youth succeed. Known as the Five Promises, these resources are: caring adults, safe places, a healthy start, effective education and opportunities to help others.  For more information about the Minnesota Youth Council, please visit www.mnyouth.net.