A Day in the Life: Maki & Annie in Northfield
April 12, 2018
Maki Love (2nd year) and Annie Moore (1st year) are AmeriCorps Promise Fellows serving at Northfield Middle School this year.  Maki and Annie documented a day in their lives to give us an insider view into the service of an AmeriCorps Promise Fellow!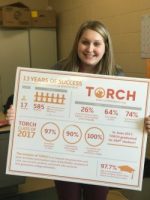 As Promise Fellows, we serve with TORCH (Tackling Obstacles and Raising College Hopes). We focus on improving graduation and post-secondary participation rates among low-income students, students of color, and first generation college bound students!
We start each day with a new question of day! This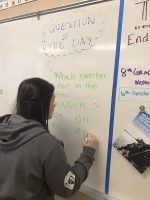 encourages our students to think critically and notice patterns. Bonus points if you can figure this one out!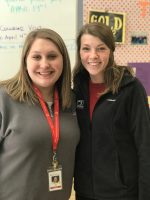 We're kicking the morning off by meeting with our supervisors to go over the upcoming weeks!  Katie Lovrien, Maki's supervisor, was a Promise Fellow at the Northfield High School two years ago. We love that she has first hand experience with the AmeriCorps Promise Fellow program and the Minnesota Alliance with Youth!  #PromiseFellowStrong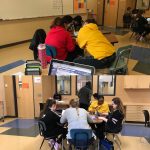 With two colleges in Northfield, we are so lucky to set kids up with one-on-one tutors! Not only do our college tutors increase our students' knowledge and understanding of subjects, they also increase motivation to succeed.
With students coming in and out of our classroom, we find moments throughout the day to take time for ourselves. Passing time is filled with talking, laughing, and preparing for the next class. We love standing outside our classroom and greeting students as they walk by!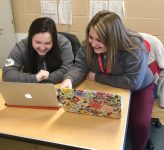 Annie: "I serve because my students deserve an equitable education no matter who they are!"
Maki: "I serve because I believe young people have the power and ability to change the world!"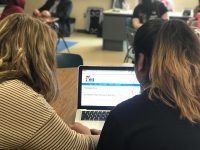 After school, we support the Middle School Youth Center. We find different ways to enrich and engage our students through clubs like Arts and Crafts, Yoga, and TOP. In TORCH, we believe in student voice and developing leaders through service learning activities! Here, we are working with one of our 8th graders on a grant to fund our annual Cinco de Mayo Celebration.
We have so much fun serving together at Northfield Middle School! Everyday is a new adventure with challenges and successes, and at the end of the day, it's always easy to find a reason to smile and laugh!