A legacy of service: Park High School
March 4, 2019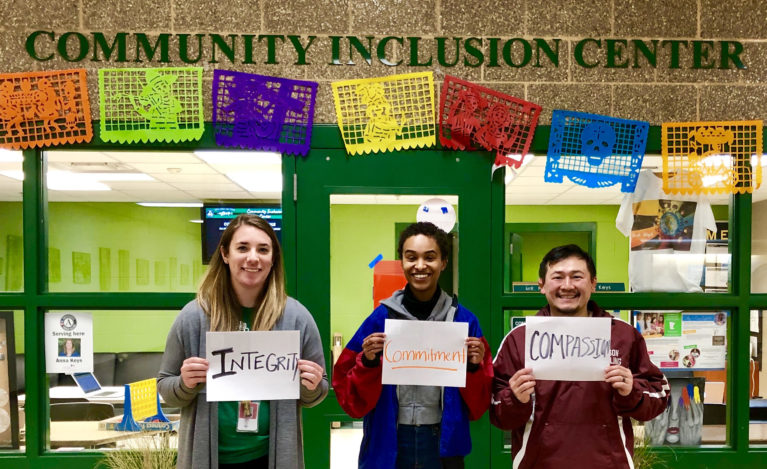 Park High School in Cottage Grove has a special connection to the AmeriCorps Promise Fellow program.  This year the school is hosting two AmeriCorps members, Anna Keys and Keren Habtes, and has two Promise Fellow alumni on staff.  Andrew Voegele is a Spanish teacher (Promise Fellow at the Key in Northfield) and Mason Fong is the Multicultural Specialist (Promise Fellow at National Youth Leadership Conference, 2008-2010).
Mason and Anna shared their reflections on service and the incredible team at Park High.
"The staff and team at Park High School have been nothing but supportive and helpful as we navigate this new role of Promise Fellows.  The team balances each other well with our different strengths when trying to reach students," says Anna.
Mason agrees. "The Promise Fellow program is an opportunity to support the community, as well as help the members figure out what they want to do with their lives.  Promise Fellows have the chance to network, meet new people, and participate in professional development.  The Promise Fellows are treated as equals with Park staff- they are supported and appreciated."
Anna, a graduate of Park HS, notes that it is particularly fun being able to work with the same teachers that taught her in school, and work towards helping the current students together.
"After some students share their story with me, I find it difficult not to help them and be a caring adult for them in their lives. Each student's story is different but they all need someone in their life to take on the role of caring for them," says Anna.
Mason notes that while AmeriCorps service is hard, it is extremely rewarding.  "The highlight of my service was being able to travel, attend conferences and lead workshops, both throughout the state of Minnesota as well as nationally.  Being a young professional, it was a great experience to be given these roles and responsibilities," he says. Mason speaks glowingly about Anna and Keren, the Promise Fellows at Park.  "Our Promise Fellows do so much- they are constantly meeting with students.  We have two really awesome Promise Fellows."