A Promise Fellow So Nice, She Served Twice (in Two Different States!)
June 27, 2016
Meet Erin Ginnaty Moore!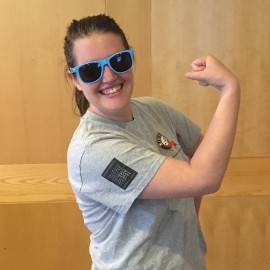 Erin is a rare Promise Fellow gem- after serving with the Minnesota Youth Council last year, Erin made the move clear across the country to serve as a Massachusetts Promise Fellow in 2015-16!  We chatted with Erin to learn more about her unique AmeriCorps experience.
Why did you decide to serve with Americorps?
Erin: "I first decided to serve because the Promise Fellow projects we so cool!  It seemed like a really great first professional experience.  I developed a passion for service in college and knew I wanted to work in the nonprofit sector.  AmeriCorps was a great way to build a network in that sector, as well gain a lot of professional development.  For me, AmeriCorps was a great way to learn and practice professional skills I didn't learn in college."
What spoke to you about the Promise Fellow position?
Erin: "Last year, I was the Civic Engagement Fellow on the Minnesota Youth Council.  That position was a combination of two of my passions: youth work and government.  I loved planning retreats for the Council.  This year, I am the Middle School Programs Fellow at Tutoring Plus of Cambridge.  What spoke to me about Tutoring Plus was that I would be doing a different kind of youth work- I liked the idea of seeing my students every week and serving with a different age group."
What has been the most enjoyable part of your service so far?
Erin: "So far, the most enjoyable parts of my service have been the connections I have made.  I have had two amazing supervisors and met really great young people in both my fellow positions.  I have learned a lot in both positions and been given the opportunity to have a lot of autonomy.  It has been really cool to implement ideas and watch young people run with them and turn them into a reality."
How did your year of service in MN uniquely prepare you to serve again in MA?
Erin: "While serving at the Alliance on the Minnesota Youth Council, I learned a lot about the power of youth voice and choice.  I took that with me to MA and work hard to incorporate that into my program at Tutoring Plus.  I always to try to create a program where a student has options and choices, so they are planning their tutoring sessions.  All the training I received as a Minnesota Promise Fellow made me a better a youth worker."
What similarities do you see between each of your experiences?
Erin: "I think both programs are passionate about supporting young people in MN and MA, and do a good job of offering a lot of professional development for fellows.  Also, in MN and MA I have been introduced to professionals in nonprofits who have been mentors to me, and helped me grow as a professional.  Overall, both Promise Fellowships create a safe space for fellows to learn and grow.  I think that is why I am so proud to be a Promise Fellow and will always be passionate about both programs."
Plans for next year?
Erin: "Next year I am planning on serving a second year as Mass Promise Fellow and finish up my masters in Nonprofit Management from Notheastern University.  I am really excited to spend another year in Boston and keep exploring the east coast!"