Alexis & Conner: Circlekeeping in Robbinsdale
March 2, 2020
Alexis and Conner, AmeriCorps Promise Fellows serving together at Community Mediation and Restorative Services, share their experiences and reflections on circlekeeping with students at Robbinsdale Middle School.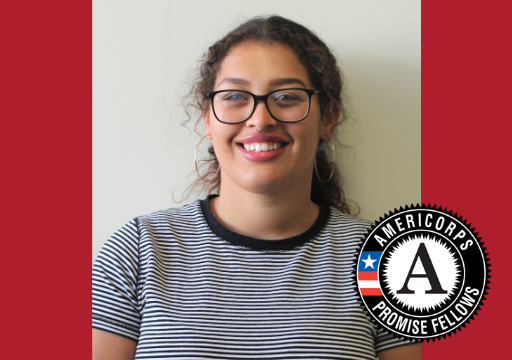 Alexis: "The 275 students that Conner and I work with are some of the most caring, inspiring and smart students I have ever worked with. Sitting in circle with them has been an absolute privilege. Over these past few months we have witnessed so much growth in these students. The students that walked in the door on the first day of circle are not the same ones we know now. They have begun to trust the other students in the circle that they never knew existed. They have bonded and stuck up for other students that they used to not and still maybe don't consider a friend, but they have begun to listen to and appreciate what their peers have to say.
Their ability to speak on issues and systems that affect them is something that their school frequently overlooks. This past week we held a circle where students could discuss their frustrations about the school. I have never seen the students more willing to discuss their thoughts and feelings, because they've rarely had the space to do so. The students had the usual complaints about school like homework and waking up early, but they also were able to identify and articulate policies and procedures that were unfair and the racism that surrounds their school. They see and understand so much more than their teachers and administration give them credit for.
I have witnessed students who never spoke in circle or ones who didn't want to be in circle ask/volunteer to lead circle. It's been amazing to speak to teachers in the school about students and realize that we know the student as completely different people. The things these students have shared in circle has given me a completely different view and understanding of them that their teachers will never know. The topics and struggles that they have shared, of their own volition to their circles range from family issues, personal struggles, to racism in their own school and community. In a few short months I have seen these students transform into completely different people and open up and talk about things that even adults are unable to do. I hope to continue providing a space with Conner where they can be exactly who they are and can grow together as a circle to tackle issues they are passionate about and lift each other up through their respective struggles."
Conner: "Over the past few months, it has been a privilege to work with the students in Robbinsdale Middle School by facilitating community peacebuilding circles. Every two weeks, Alexis and I see the entire 7th grade (around 275 students). In our second cycle of circle, Alexis and I led a values exercise that gave students the opportunity to explore their core values. First, students individually selected three value cards. From there, we asked each student to select a card that reflected their most important value, and place it in the middle of the circle. They each reflected on each of the values in the center of the circle, and made connections with each others' values. Overall, the most common student values were honesty, family, friends, creatively, fun, and freedom.
Despite the variety of personalities present in our circles, it was fascinating to see how all of our circles had similar core values by the end of the activity. However, many students struggled with this activity. They expressed confusion over what the right answer was, and asked what we were looking for. This confusion is indicative of the problems in education. Students were focused on what the correct answer is, rather than exploring their personal convictions and passions. This is the power of circle. Circle is an opportunity for students to collectively explore themselves with others. While not all students particularly enjoy circle, it has been a transformative process for them. Their growth over the past semester is astounding.
This past week, we facilitated the circle to be a space for students to express their truth about school, teachers, and staff. It was inspiring to see how the same values we discussed two months ago were reflected in this discussion. Students wanted more access to their phone in order to connect with family and friends during lunch. They wanted honesty from their teachers and peers, rather than performative declarations of "community" and "care." They wanted more fun and creative ways of being taught, rather than receiving stressful amounts of homework and tests that exacerbates their mental health problems.
Ultimately, the value that was brought up the most was freedom. The students eloquently and passionately described how they wanted freedom from random punishments with reason and from racist conduct of teachers and staff.  While students do not yet use the language of "school to prison pipeline" or "racial disparities," they are more than aware of these realities. Many see education as unjust, yet so many adults in their life try to convince them this is normal. For the remainder of the school year, students will be leading circles themselves, and I cannot wait to see how they use this space as a way to investigate the truth of the world around them in the community of each other. Their values are powerful, and I hope they recognize they are powerful both as individuals, and as a collective."