Trick or Trivia: Virtual Trivia Night on October 29th!
September 21, 2020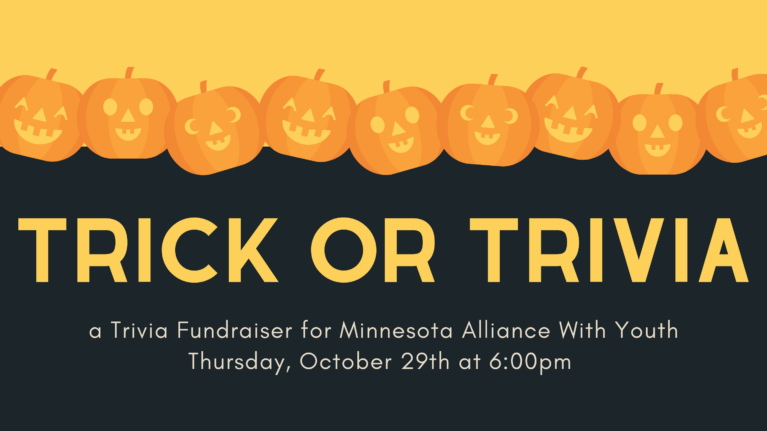 Join us for a night of socially distant fun to raise money for Minnesota Alliance With Youth!  Gather a team of friends and family to compete against other Alliance supporters, partners and fans in a battle of Halloween-themed wits.
Alliance staff member and Trivia Host Extraordinaire Kyle Kline will be hosting this night of fun and funds!
Thursday, October 29th at 6:00pm CST via Zoom.
To celebrate the Halloween season, participation in COSTUME is highly encouraged!   There will be a PRIZE for the best costume of the night!  Plus, it's fun for the whole family- have your kiddos join in our special KIDS round!
Suggested Team Donation to enter is $50.00.  Register by donating below and you will be sent instructions (including the Zoom link) on how to join and participate.
See bottom of page for FAQ section!
*Note that the $50 donation is a suggested amount only. No donation is required to participate, or to be eligible to recieve the prizes. Please email ksuchomel@mnyouth.net if you would like to participate without the suggested contribution.
FREQUENTLY ASKED QUESTIONS
How does virtual trivial work?  Trivia will be held online, via a Zoom meeting.  You will be muted during the event, and will follow along with our Trivia Host, Kyle!  Your team will choose one designated person to submit answers via a Google Form that is shared at the beginning of the event.
Can I create a team with people I don't live with?  YES! Trivia is for everyone!  You can play with a team of friends from all over- just figure out the best way for everyone to communicate with one another during the event (a group text, FaceTime, Google Meet, a good old-fashioned group phone call- whatever works for you).  You don't have to worry about your chatter being heard by other teams, since everyone will be on mute!
What are the prizes?  Prizes are still being finalized, but will likely be a fantastic gift card or restaurant voucher.  🙂
What is the cost? We are recommending a $50 donation per team, using the donation form above.  You can be generous and give the full amount on behalf of your team, split the amount between teammates and have everyone Venmo you their amount… whatever works for you!
What is a good team size?  Team size is completely up to you, but we recommend between 4-6 people to keep things even and to avoid too many opinions on one team. 😉
Do I have to donate to play/be eligible for prizes? No, anyone can participate, but we are recommending a $50 donation per team to help support the work of Minnesota Alliance With Youth!