AmeriCorner: A welcoming space for students
March 4, 2019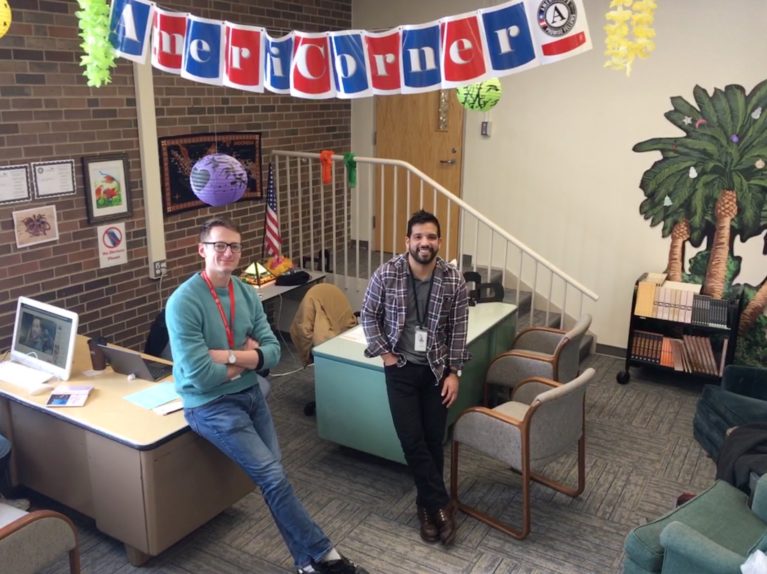 Find your way to the media center at Fridley High School, you'll come across a special place: the AmeriCorner!  Promise Fellows Joseph and Brockway will be waiting for you, basking in their imagined sun, ready to serve the students of Fridley High!
How did the AmeriCorner come to be?
Brockway: "Immediately we hit the ground running with the whole "tiki" theme. Many students and staff have made contributions to the aesthetic. Palm trees, actual plants, chairs, cool rocks, a conch shell, leis, and various other things were donated or loaned to us from students and staff. The whole idea of having an island theme was to create a relaxed and non-confrontational space for students. Heck, the staff like stopping by to our little oasis too just for a breather. Any time of the week you might walk by you'll catch some ukulele or Jack Johnson vibes. Depending if I remember to buy new Glade things, you might even catch a waft of coconut or pineapple."
Brockway says that student reactions to the space have varied.  Some students love it and some think it's silly, which doesn't bother the Promise Fellows a bit.  "I'd rather have kids laughing than being mad or worked up. I think it'd be pretty hard to yell when there is a framed picture of a koala attached to one of our 2-D trees or some poorly illustrated macaws looking at you."
The Promise Fellow duo celebrates "Tiki Monday" by wearing Hawaiian shirts and play nonstop tunes like "Beyond the Reef," "Sophisticated Hula," and "Yaaka Hula Hickey Dula."
Brockway says, "All the jokes and fun times aside, the kids at FHS know that if they need help with homework or just someone to talk or vent to, that the two of us are always ready to do what we can."
Need a vacation from this Minnesota winter?  Stop by!  "We'll wear our leis and say aloha to all we meet," says Brockway.