AmeriCorps Promise Fellows Creating Bright Futures!
September 29, 2016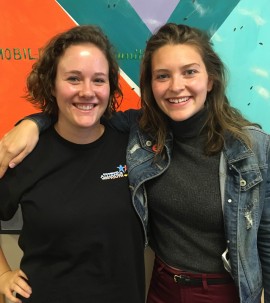 What supports and resources do young people need to succeed in school?  How can we join together to meet the needs of students that are facing additional challenges such as teen pregnancy, poverty or unstable housing?  On September 28th, AmeriCorps Promise Fellows Leah Bentfield and Alex Spirov, both serving at Minneapolis Public Schools' Longfellow Alternative High School, had the opportunity to address these questions with Pearson members and America's Promise Alliance staff who facilitated a webinar from Washington DC.  Alex and Leah serve as Check and Connect Monitors within the school, building student engagement by enhancing the strengths and connections between home, school, and community through mentoring, problem solving, and persistence.
Leah and Alex, both 2nd year AmeriCorps members, attributed much of their positive Promise Fellow experience to the outstanding staff and supervisors that support their service.  At Longfellow, an alternative school for pregnant and parenting teens, Principal Dr. Udupa has been quintessential in believing in their work, supporting the relationships they build and the interventions they implement with students.  Dr. Udupa encourages her staff to think about each student as an individual, giving students equitable choices, consequences and rewards tailored to their needs and circumstances. Longfellow offers a personalized learning program that benefits students academically and far beyond the walls of the school.
Because of their unique position as AmeriCorps members within the school, Alex and Leah can focus on being caring adults for the students they serve, providing individualized and creative supports to young people struggling to be academically engaged.  From supporting academic learning, utilizing restorative practices, arranging transportation, maintaining communication via facebook, and providing encouragement to graduate, Leah and Alex are helping Longfellow students create brighter futures for themselves and their children.
This webinar was hosted by Pearson and America's Promise Alliance – building the capacity to raise graduation rates through innovative approaches and GradNation State Activation grantees including the Minnesota Alliance With Youth, GradMinnesota Initiative.