Community Spotlight: Fergus Falls
March 9, 2011
-Mike Walls, Promise Fellow, Fergus Falls
A mosaic of streets, cozy downtown shops, and common acquaintances at the local grocery store, paint a friendly picture of that oh, so nice, "rural Minnesotan" town. But, on second glance you will see a gaggle of students eager to attend their new Kennedy Secondary School. Claire and I, both Fergus Falls High School graduates, returned home to serve our community through youth engagement, after completing Bachelor's degrees. We've eagerly connected with students and our community in a number of ways. The days are filled coordinating civic engagement programs, tutoring, and meeting with students to promote academic success. Claire is taking the helm of the "Senior Mentorship" program, an upperclassman favorite. This program connects 25 high school seniors, with elementary classrooms to mentor youth for in-class help. I have taken on the role as Adopt-a-Class coordinator, where I have paired 46 local businesses with K-6 classrooms. The partnership begins with a $100 contribution to the class and meeting at various times to interact throughout the year. Afternoons, Claire is involved with tutoring 6th-9th grade students in an elective course, and I independently tutor several High School students.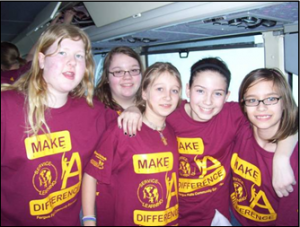 Our youth engagement program, "Make-A-Difference",has proven to be a favorite among Middle School students this year, with over 85 students participating. This cohort of 6th-8th grade students meets every Tuesday during lunch to discuss topics around social inequality and ways to engage their community through service learning projects. This fall has already brought loads of excitement. "Make-A-Difference" students have enjoyed sitting in their own Otter Varsity Football cheering section, riding on a Homecoming Parade float, and participating in a Halloween carnival. Many "Make-A-Difference" students are excited for the upcoming Students Today, Leaders Forever – Pay it Forward Tour which includes a trip to Hutchinson and Minneapolis where we will volunteer at various sites and learn about poverty issues.
We've had incredible support from our School-Community Partnership members on all our endeavors, which include the YMCA, Public Library, and A Center for the Arts. We also received an ISD 544 Foundation grant, which provides staff to support tutoring at our largest elementary school. Collaboration among students, staff, community, and businesses has made this year remarkable. So next time you're musing about Fergus Falls, don't just think about how we've been "Tree City USA" for 31 years or our Guinness Book record for most churches per square mile, but think about this community's enduring commitment to serve its youth.