Finding Success with Early/Middle College
November 8, 2016
Early/Middle College programs are growing in popularity in Minnesota.  An innovative program
designed to support students that find traditional school pathways challenging, Early/Middle College allows high school students to split their course load between high school and college classes.  By the time they graduate, students have several college credits under their belt and exposure to college-level coursework.  This dual pursuit of high school and college credit is possible due to Early/Middle College legislation passed in 2014 that allows "opportunity youth" (specifically students in alternative learning centers – ALCSs) to access Postsecondary Enrollment Options (PSEO) funding.  This legislation was groundbreaking in that it opened PSEO options up to students who would not otherwise participate, providing extra incentive to earn a high school diploma, and allowing high school students to see themselves succeeding in a college setting.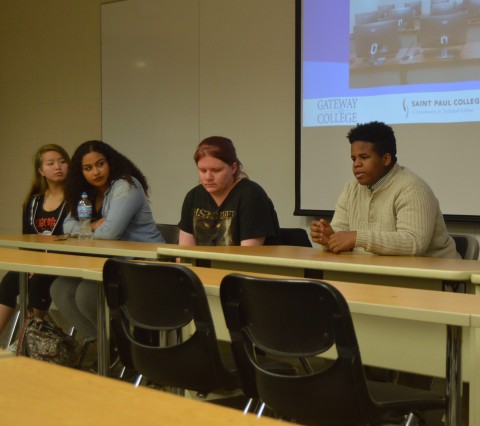 On October 14th, school practitioners, community organizers, and educational stakeholders gathered at the Early/Middle College Summit led by the Minnesota Alliance for Early/Middle College Success.  Through workshops and breakout sessions, participants discussed the importance of this program to our communities and identified the essential elements for successful programming and student success.
Gateway to College: High School in a College Environment
One breakout session titled "Student Voice & Supports: The Transforming Power of Place" highlighted the perspectives of young people at the Gateway to College alternative school in St. Paul. About 75 students are enrolled at the school and attend their high school classes and college classes at St. Paul College.  Students are supported by Gateway to College staff to earn their high school diploma and thrive in a college environment.
Session participants discussed the supports necessary to facilitate student success for young people who face multiple stressors in their lives and are at risk of not completing high school. For example, staff at Gateway to College developed a color coded data system that is used to track academic performance in college coursework on a daily basis. This ensures that Gateway students are provided with consistent and individualized interventions when they need them. The system also facilitates communication between high school and college teachers and administration.  Session panelists also identified the positive school culture at Gateway to College as essential to their success; students are held accountable, problem solving occurs on a timely basis and failure is not an option.  Students receive personalized advising, access to transportation, flexibility in scheduling, and workshop-style classes to support academics – all in an environment that has a "close-knit community feel."
Student Reflections
Gateway to College students readily shared their experiences, reflecting on the individualized support they receive through the program:
"I actually like coming here. I'm here at 6:30 am before the doors open, when I don't have a class until 8:00 am."
"I feel connected and cared about, they truly care."
"I live on my own, take care of it and work. [Gateway to College] fits into my schedule perfectly."
"It is a lot different from high school when you are on a college campus. You are in this mindset. It teaches you to be independent and more."
"I really like how I get breaks throughout my day, this really allows me to absorb what I have just learned, rather than going from class to class in a regular high school"
"I have a full time job on top of coming here, and at the start of this year, I was really worried because sometimes my school schedule interfered with my work schedule and I had to miss classes….so I met with Mr. X, and we set up a plan so that I can still be on track with my classes…It's working really well!"
As one student put it, referring fondly to a teacher, "You have the freedom, but they're on your case if they need to be.  They make sure I go to class and get my homework done."  For another student, Math had been a challenge for him at his previous school, but said that at Gateway, "Math is fun, thanks to this guy", he said, smiling at his teacher.
The Minnesota Alliance for Early/Middle College Success is working to develop policies that will sustain and scale the success of this option in Minnesota.  As our state works towards reaching the GradNation goal of a 90% high school graduation rate by 2020, the expansion of programs like Early/Middle College will be critical in creating bright futures for Minnesota students.
For More Information:
Minnesota Alliance for Early/Middle College Success
Alternative Pathways to a Diploma