GradNation: A Visit to El Colegio High School
August 1, 2016
At El Colegio Charter School in Minneapolis, something incredible is happening.  In a state where the graduation rate for Hispanic students is 65.6 percent, El Colegio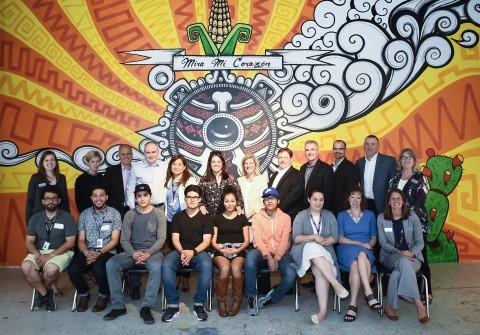 students are defying the odds, with 85 percent of the Latino students in the 2016 senior class graduating.  What are the key ingredients at El Colegio that foster this success?
In 2015, America's Promise Alliance and Pearson launched the GradNation State Activation initiative, which provided grants to three states – Minnesota, Arizona and Massachusetts – with clear plans to raise high school graduation rates to 90 percent by 2020.  In June, Pearson Board members got a first-hand look at what's working in Minnesota during a visit at El Colegio high school.
Students and staff at the school spoke with Pearson Board members about effective strategies to increase student engagement, foster school completion and ensure post-secondary success.  The visit was coordinated by Minnesota Alliance With Youth's GradMinnesota initiative, one of the three GradNation State Activation grantees.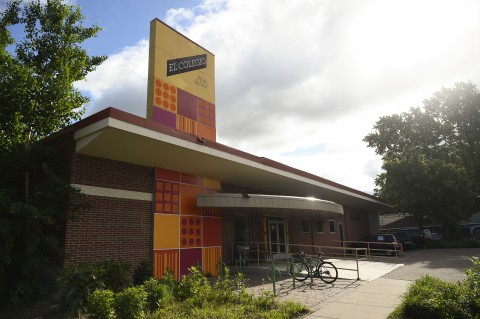 El Colegio Charter School is a small public high school in Minneapolis that has been serving students in English and Spanish since 2000. Norma Garces, executive director of El Colegio, said the school engages students in challenging, profound learning experiences that integrate research-based teaching strategies with Latino culture and traditions.
"We provide a supportive and personalized environment so that students are known well and are individually supported to meet the challenges of high school and beyond," she said.
Garces emphasized the role all staff and particularly AmeriCorps Promise Fellows play in creating bridges for academic success and personal progress. "It's about every teacher wanting you to go to graduate, not just one or two," she said.
El Colegio students develop the skills and personal qualities needed to be successful in college and employment, to be comfortable and excel in a bilingual/bicultural environment, and to be leaders in their communities and the world.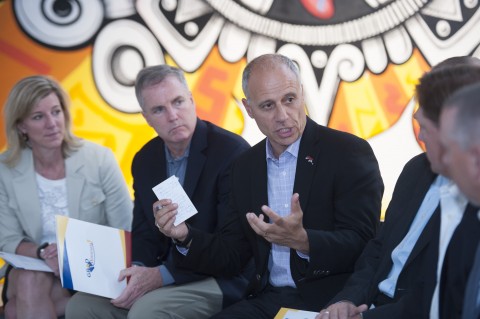 During the visit with local and international Pearson executives, John Gomperts, president & CEO of America's Promise Alliance, provided an overview of GradNation, a large and growing movement of dedicated individuals, organizations and communities working together to raise graduation rates and prepare all students for post-secondary success.
GradMinnesota is working to increase the graduation rate in Minnesota to 90 percent with special focus on accelerating the graduation rate for student groups with less than 70 percent graduation rates now.
Shilpi Niyogi, senior vice president of North American Corporate Affairs at Pearson, highlighted the collaborative nature of GradMinnesota, explaining that El Colegio hosts two Americorps Promise Fellows whose role is to work with students to foster success in school.  "Mr. Steve" and "Mr. Gary" play a special role in the school, targeting young people who are struggling with school attendance, behavior or showing signs of falling behind in coursework.
"It's all about the relationships and the little things," the Fellows said. "We are bridges."
El Colegio students shared insights from their educational experience, responded to questions and offered perspectives on the role of caring adults in their lives, the supportive environment at El Colegio and their journey to graduation and beyond.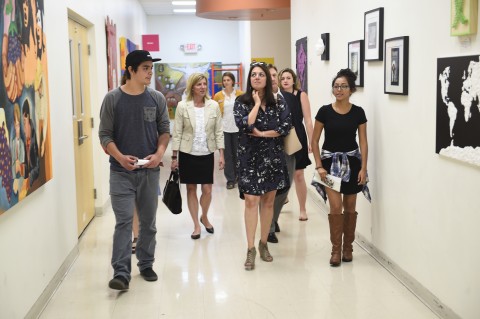 The discussion was followed by student-led tours of the school, where the young people pointed out student artwork and favorite classes.  The visit concluded with a brainstorming activity on highlights of the visit, illustrated by this wordle.