How Small Steps Make a Big Difference In Raising MN's Graduation Rates
December 2, 2015
This news post originally appeared on America's Promise Alliance Latest News and Pearson Learning News. 
At West Education Center just south of Minneapolis, Alexia Poppy-Finley often uses social media to find students on the verge of dropping out or young adults who already left school.  Online, she encourages them to consider coming back—but only when they're ready.
West Education Center is one of several alternative education centers in what's known as Intermediate District 287, a partner to Minnesota's school districts focusing on providing a supportive and quality education to students facing multiple challenges.
Ms. Poppy-Finley, a licensed social worker at District 287, often recruits students herself, finding them online. Her work requires dedication and persistence; in one instance, she texted with a student for nearly three years before the young adult returned to school at the West Education Center.
"It's the power of relationships," said Ms. Poppy-Finley. "We show them the choice is theirs and give them options to succeed."
West Education Center and Intermediate District 287 are just two examples of local efforts highlighted by Minnesota Alliance with Youth that work to improve graduation for all young people. The ability to bring together multiple partnerships to impact a common goal is one reason why the group was just awarded a $200,000 grant from America's Promise Alliance and Pearson.
Minnesota Alliance With Youth partners with the Office of the Governor and the Minnesota Department of Education to support GradMinnesota. GradMinnesota is a statewide initiative that is linked to the national GradNation campaign led by America's Promise Alliance. The goal is not to reinvent the wheel, but to affect change through collective efforts of school, community, and government agencies.
More than 81 percent of Minnesota high school seniors graduated in 2014, up from 79.8 percent in 2013. But the graduation rate for students of color is much lower than their white counterparts. In 2014, 86.3 percent of white students graduated on time, compared to only 60.4 percent of black students and 50.6 percent of Native American students.
At West Education Center, many of the students face significant challenges. They may speak limited English, have unemployed parents, have mental health issues or may be young parents themselves. Additional barriers make attending and completing school even more difficult. For example, some of the neighboring school districts don't bus to the center, forcing students to find their own way to the school. In some cases, this means a commute of more than an hour via public transportation.

Finley says the school focuses on meeting each student's unique needs. Teachers invest substantial personal time with each student and classes are often as small as seven to 10 people. When students need a special learning environment—like studying while listening to music—they are given that leeway.
 Despite these daily struggles, more than 50 percent of West Education Center's students go on to graduate. A huge victory for many who thought high school graduation was never meant for them.
College Knowledge Month: 62 Percent of Participants Had Increased Interest in College
From four-year universities to two-year community colleges, opportunities often seem unrealistic for some District 287 students. But College Knowledge Month supports the belief that college can be for anyone. A recent College Knowledge Fair hosted at Concordia University gave students a glimpse into that path. Students walked throughout the Concordia University gymnasium and investigated potential colleges and universities, asking questions about programs offered, financial aid, credit requirements and more.
Student Tati Ampah migrated towards Colorado State University. The school has an excellent art program. "I want to be a tattoo artist and this is a great art school that can help me," said Tati.
The fair is part of a larger College Knowledge Month program, which encourages students to learn more about higher education opportunities. Two-thirds of student participants say that exposure to that information has increased their interest in going to college and helped them understand things like the admissions process.
Attendance Matters: An Estimated 5 to 7.5 Million Students Nationwide Are Absent 18-19 Days Per Year
Another approach supported by the Alliance tackles a major factor affecting graduation rates: school attendance.
Minnesota law requires schools to drop students once they have 15 unexcused absences. The team at the Washington Technology Magnet School works diligently to prevent that from happening. They know that once students drop out, it is nearly impossible to get them back into the classroom.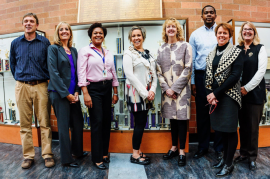 Washington's Attendance Intervention Program starts with a telephone call home and 90 minute after school detention for unexcused absences. Interventions for three to five unexcused absences include a letter home to the parent from the school Attendance Liaison, and a parent/student meeting with the County Attorney. At seven unexcused absences, an attendance contract is developed outlining responsibilities of the student, parent/guardian and the school. If a student reaches 10 unexcused absences, that process escalates to Student Assistance Review Team hearing.
But the Attendance Team takes a positive approach to avoid getting to that point. Team members meet with students to find out what's preventing them from coming to school and provide incentives and practical assistance to keep them attending. Many students come to rely on their counselors for help with basic needs like groceries, carpool rides and day care.
 Even if a student drops out, the team doesn't lose hope. Team member Albert Green continues to seek out former students in the community, on Facebook and Snapchat, going that extra mile—even buying diapers to help a teen mom care for her newborn.
Allied with Minnesota Alliance With Youth
America's Promise Alliance and Pearson believe that education is one of the most important ways to put young people on the path to a better future. GradMinnesota's collective impact approach and recommendations to facilitating students' success offers lessons that both schools and states can apply to their own efforts to raise
graduation rates. With a focus on collaboration and empowering individuals, the Alliance is building bridges in Minnesota and proving that when organizations come together, they can make a big difference. Look for more reports on their future progress.