Jason Brown Reflects on AmeriCorps Experience
February 3, 2014
By Maddy Wegner
As AmeriCorps celebrates its 20th year, the Alliance celebrates those who participated in its first cohort of Promise Fellows in 1999.
Jason Brown was a member of that initial group, and attributes much of his current career happiness at Project SUCCESS in Minneapolis to the relationships he formed and doors that opened through his two-year term of service.
"AmeriCorps enabled me to circulate in sectors that I wouldn't have otherwise," says the English and education major whose student teaching experience led him to look outside mainstream education settings for his first job. Having considered the Peace Corps, he decided instead on the then six-year-old AmeriCorps program.
Though the Ohioan claims he never intended to stay in the Twin Cities, he was hired at Project SUCCESS not long after his Promise Fellow year of service at the Volunteer Center in St. Paul.
"Coming out of college, I had learned a lot from books, but not much about how to navigate a professional environment," says Brown. "AmeriCorps gave me a sense of responsibility, ownership, plus the 'soft skills' — metacognitive, social/emotional — that I could practice in these environments."
At Project SUCCESS, which helps students in grades 6–12 refine their understandings of what they want to do beyond high school, Brown gets to apply his passion for both young people and the theater. The organization works with 11,000 students across the Twin Cities, and offers programs focused on goal-setting, enrichment, and college exploration, using the arts as routes to self-discovery.
But what hooked Brown was Project SUCCESS' emphasis on building long-term relationships, mentoring a cohort of students for seven years in his early role as a program facilitator. From that work, he moved to program management in multiple schools in the metro area, and now he is helping develop a nationally replicable curriculum and professional development opportunities.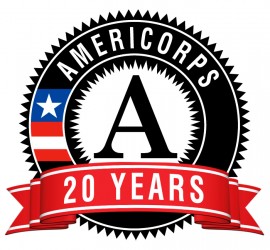 The challenges haven't waned. "How can we do this inside the current education structure, which is asking us to do more data-focused interventions and testing? Can we still build relationships and play in the classroom — which are so important to student success?" asks Brown, still a Minnesotan 16 years later, still helping improve outcomes for young people.
■
Wegner, Maddy. "Jason Brown Reflects on AmeriCorps Experience." Promise Press 17.1 (Winter 2014): 3. Print.