Meet the first #PromiseFellows!
July 10, 2014
Promise Fellow Alumna Sonja Karger Kuhn
Sonja Karger Kuhn hasn't slowed down a bit since serving as a Promise Fellow.  These days she wears many hats.  She is the Executive Director for a small but growing non-profit, The Windmill Project, based in Alexandria, MN.  The Windmill Project supports parents & families of children with Special Needs and Disabilities.  She also owns Journey Career Coaching and works with individuals as well as small work-groups on developing individual strengths, aligning people with work that really fits their unique talents, strengths and interests. Sonja also volunteers with the Butterfly Hill Nature Preschool, is married to Kurtis Kuhn and has three young sons, Ben – age 5, and twin boys Luke and Will – age 2.5.
As a Promise Fellow, Sonja served with the Mentoring Partnership of Minnesota.  JoEllen Gonder-Spacek, the Executive Director, quickly became a mentor and inspiration, taking Sonja on fundraising calls to meet with the CEOs of some of Minnesota's largest companies, teaching her how to be comfortable in a room with anyone, and that if you really believe in what you're doing, then it's an easy conversation.   As a Fellow, Sonja worked as part of the Training Team, teaching volunteers how to be an effective mentor and working with organizations training them on how to run mentoring programs. She learned that she had a passion for training and teaching, and loved to be in front of the room facilitating in-depth conversations and learning.

Promise Fellow Alumnus Brett Buckner
Brett Buckner was one of the original Promise Fellows, serving at the Jewish Community Relations Council.  Brett has always worked in the field of youth development, including the Boys & Girls Club and the Minneapolis Parks & Recreation department.  Today, Brett is involved in high level policy and politics statewide, working on an initiative to achieve racial equity in Minneapolis, developing a framework where all individuals can excel.   Last year, Brett ran for the Minneapolis city council, and said that it was relationships that he had made as a Promise Fellow that helped to fuel his campaign.  Brett emphasizes that serving as a Promise Fellow still impacts his life today, through the many opportunities and connections that he gained during his AmeriCorps service.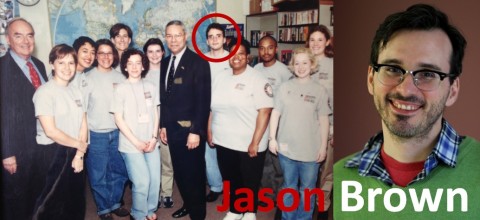 Promise Fellow Alumnus Jason Brown
Jason Brown was a member of the initial Promise Fellow group, and attributes much of his current career happiness at Project SUCCESS in Minneapolis to the relationships he formed and doors that opened through his two-year term of service.  "AmeriCorps enabled me to circulate in sectors that I wouldn't have otherwise," says the English and education major whose student teaching experience led him to look outside mainstream education settings for his first job. Having considered the Peace Corps, he decided instead on the then six-year-old AmeriCorps program.
Though the Ohioan claims he never intended to stay in the Twin Cities, he was hired at Project SUCCESS not long after his Promise Fellow year of service at the Volunteer Center in St. Paul.  "Coming out of college, I had learned a lot from books, but not much about how to navigate a professional environment," says Brown. "AmeriCorps gave me a sense of responsibility, ownership, plus the 'soft skills' — metacognitive, social/emotional — that I could practice in these environments." At Project SUCCESS, which helps students in grades 6­–12 refine their understandings of what they want to do beyond high school, Brown gets to apply his passion for both young people and the theater. The organization works with 11,000 students across the Twin Cities, and offers programs focused on goal-setting, enrichment, and college exploration, using the arts as routes to self-discovery.
But what hooked Brown was Project SUCCESS' emphasis on building long-term relationships, mentoring a cohort of students for seven years in his early role as a program facilitator. From that work, he moved to program management in multiple schools in the metro area, and now he is helping develop a nationally replicable curriculum and professional development opportunities. The challenges haven't waned. "How can we do this inside the current education structure, which is asking us to do more data-focused interventions and testing? Can we still build relationships and play in the classroom — which are so important to student success?" asks Brown, still a Minnesotan 17 years later, still helping improve outcomes for young people.

PROMISE FELLOW ALUMNA KAYLA BOETTCHER 
Kayla Boettcher was a Promise Fellow at the League of MN Cities in 1999.  In 2001, she moved to Sitka, Alaska and worked for 9 years at Mt Edgecumbe High School, a statewide boarding school, with a primary emphasis on helping the students create stronger bonds to the people and environment of Sitka. She went on to work at the Spirit of Youth program, the Alaska Humanities Forum and Sitka's NPR-affiliated community public radio station.  While working, Kayla also attended school and got her Master's degree in Positive Youth Development.
In 2012, Kayla was hired on as the Executive Director of the Sitka Summer Music Festival, a 43-year-old chamber music festival that brings professional classical musicians to Alaska, and present concerts in Sitka, Anchorage, Juneau, Fairbanks, and at least three other Alaska communities per year.   Kayla volunteers in her community, hosting a radio show on Monday evenings called "Swing Set" and teaching violin lessons to young beginners.
Kayla says that her biggest takeaway from being a Promise Fellow is also the thing that still impacts her life currently; "Everyone in a community has a role to play with young people, and that it's especially important for those of us who aren't parents, school teachers, or professional youth workers to keep that in mind." She says, "Even though I've moved away from an 'official' role in the field of youth development, I'm still working to have relationships with young people in my community and do my part as a community member to provide expectations and opportunities that support a vibrant youth culture."

Promise Fellow Alumna Corrie Schueller
As one of the original Minnesota Promise Fellows, Corrie Schueller served as the Communities of Promise Coordinator at Minnesota Alliance With Youth.  Now, Corrie is the Director of Community Engagement at Animal Humane Society (AHS).  At AHS, Corrie works with the organization's external programs, overseeing the Training School, free Pet Behavior Helpine, Boarding, Humane Education, and Community Outreach programs.  Corrie is in the process of developing a strong community outreach presence in the Frogtown neighborhood to increase community members trust in AHS and improve the overall health and well-being of pets living in that community.
Corrie received her Master's in Social Work degree at the University of Minnesota in 2005 and has two active sons, Mason (8) and Gavyn (7), who love sports and the outdoors.  She volunteers at her boys' schools, with their sports teams and is a foster volunteer for the Animal Humane Society.
Corrie's biggest take-away from her year as an AmeriCorps Promise Fellow, as well as a governor appointed board member of ServeMN, was the importance of working together with other people and organizations.  "When we all work together for a common goal, we make a much stronger team and have a deeper impact on those who we are serving," says Corrie.  The work Corrie did as a Promise Fellow translates to her job now, as her Community Outreach team at AHS works to increase their presence in the community and build partnerships with other non-profits to improve the lives of people and their pets.