Milah, My Rock
June 15, 2015
By Janey Atchison, AmeriCorps  Promise Fellow at Murray Middle School in St. Paul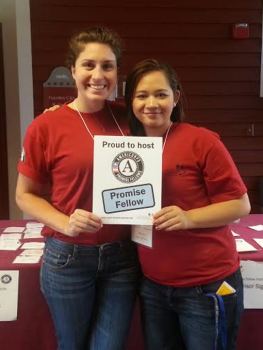 As the year progresses, there have been ups and downs. There have been days that I left crying and days that I did not want to leave at all. Middle schoolers are tough; navigating a school and its systems is even harder. My counterpoint and fellow Promise Fellow, Milah, has been my rock from the start. This great story is not about a student, but instead the person who has helped me do this job the very best that I can and in turn helped my students too.
Milah and I could not be any more different. I am loud and controlling. She is quiet and dutiful. I am from a farm area; she is from the city. I am Caucasian and she is mixed between Hmong and Chinese. With all of these differences, it is surprising that we complement each other so well. We seemingly are constantly in sync and pushing each other to do our best. She lends an ear for me to talk to when I am having a bad day, she helps me figure out a system where seniority and politics are constantly at play, and lastly, she keeps me dedicated to the students when I am feeling burned out.
I would not want to share this experience with anyone else. I feel like I have a level of trust and steadfastness with her that I have not experienced with a fellow co-worker. Partially, it is because we share the same job. We have the same struggles and we both serve the same type of students. Students, who at times, seem to despise us and yell at us, but then turn around and cling to us for support. At times, it can really take a toll on your attitude. Milah is always there to help me through these difficult times. Without her, I would not be able to serve my students as well as I do. I feel like I have found a lifetime mentor, coach, friend, and guide with Milah and I am so grateful for that.