Minnesota Alliance With Youth Sponsors Global Youth Service Day!
April 4, 2012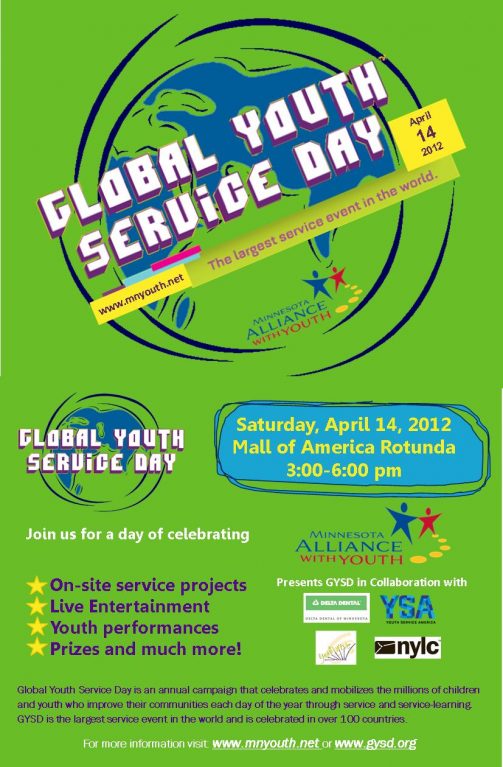 ST. PAUL, MINN. (April 4, 2012) – Minnesota Alliance With Youth, an organization committed to advocating with and for youth to ensure that all young people in Minnesota have access to the fundamental resources they need to be successful, will host a Global Youth Service Day celebration on Saturday, April 14, from 3 p.m. to 6 p.m. at Mall of America's main Rotunda in Bloomington, Minn.  The event, intended for children of all ages and their families, will feature youth performers, entertainment, prizes, and on-site service projects.  More information about the celebration can be found on the organization's website, www.mnyouth.net.
Global Youth Service Day, held in 100 countries, involves millions of youth globally. This annual event highlights and celebrates the contributions of youth to their respective communities through volunteer service; supports youth on a life-long path of service and civic engagement; and educates the public, the media, and policymakers about the year-round leadership and community contributions of young people. Minnesota consistently leads the service movement nationally, with the most youth service projects registered at www.gysd.org.
The Global Youth Service Day celebration at the Mall of America is sponsored by Minnesota Alliance With Youth in partnership with Delta Dental of Minnesota and Youth Service America. Talented young people will perform while on-site service projects supporting local and global concerns will be carried out. Youth from Journeys Secondary School in St. Paul and The A-List (Brooklyn Park) will be featured, as well as hip hop/spoken word, Aztec dance performers, and dance of many types!  Scheduled youth performances also include: Minneapolis group "BARS & MEASURES", Sojourner Truth Academy's Step Team – "Lil' Soujas", El Colegio Charter School's Lyrics and Beats club, and more!
In support of Global Youth Service Day, Delta Dental of Minnesota also recognizes the winners of its 9th annual Serve A Smile mini-grants program, with more than $30,000 donated to support 40 youth-led service projects in Minnesota taking place over the week. One recipient, Northwest Youth and Family Services (NYFS) STEP program, will host a Healthy STEP Community Health & Wellness Fair at New Brighton's Family Service Center on Saturday, April 21st, 11-5pm in the Discovery Center at Northwest Youth and Family Services. "Youth involved have gained an excellent understanding of how they're helping individuals and their communities.  Delta Dental's funding provides critical support to help make the student's volunteer work successful," Holly Walters, AmeriCorps Promise Fellow at NYFS.  The event will feature health and wellness practitioners, education and activities for families. "Kids Who Care" hygiene kits will be assembled and donated to a local emergency shelter. The Healthy STEP Fair is open to the public.
President and CEO of Minnesota Alliance With Youth, Sarah Dixon shares, "Global Youth Service Day is a wonderful opportunity for us to celebrate the meaningful commitments area youth make to volunteer service. We're excited to honor the many young people who contribute to the well-being of our communities with an event that is truly designed with them in mind."
About the Minnesota Alliance With Youth
Founded in 1997, the Alliance is Minnesota's leading convener, collaborator and capacity-builder for youth development. The Alliance seeks to strengthen youth success in school and learning, increase youth engagement in communities, develop and magnify youth voice, and advance collaboration and innovation with entities that share our vision. The Alliance is the Minnesota affiliate of the America's Promise Alliance and contributes resources to schools, communities and partner organizations across the state in the form of 116 AmeriCorps Promise Fellows.
For more information about Minnesota Alliance With Youth or Global Youth Service Day, visit www.mnyouth.net.