Minnesota Youth Council COVID-19 Issues: Blood Donation
April 17, 2020
The Minnesota Youth Council urges people to donate blood amidst this current pandemic as it is vital for the welfare of our country's citizens. Due to fears of being infected with the coronavirus, many people are cancelling their appointments to donate blood. As a result the American Red Cross is facing a severe blood shortage. This blood shortage could impact patients who need surgery, victims of car accidents and other emergencies, or patients fighting cancer. A lack of donated blood could lead to another health crisis alongside the current pandemic.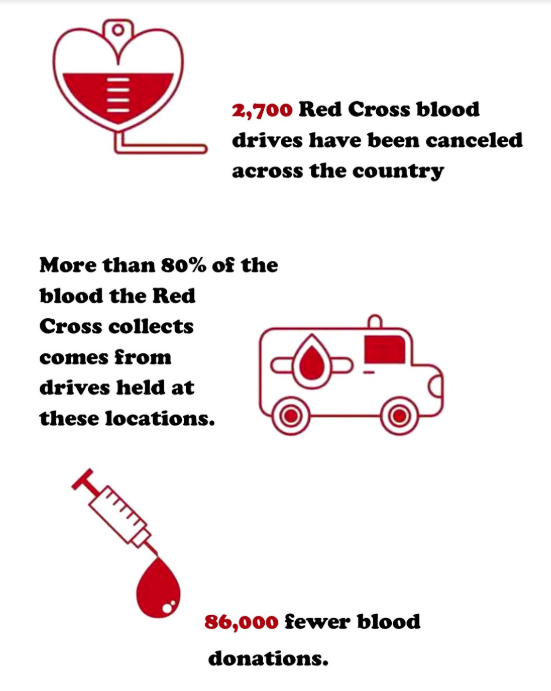 We understand many individuals may be concerned about contracting the coronavirus or fueling the spread of the virus while donating. The American Red Cross has been vigilant in implementing additional precautions to prevent anyone from contracting the coronavirus while donating. There are also new measures in place to ensure that only people who are feeling well donate blood, and according to the website of the Red Cross, "There are [currently] no data or evidence that this coronavirus can be transmissible by blood transfusion." Giving blood is completely safe. As the United States surgeon general says, "You can still go out and give blood. We're worried about potential blood shortages in the future. Social distancing does not have to mean social disengagement." It is crucial that we do our part by flattening the curve, but that can not mean that we allow vital resources like our blood banks to be depleted. US News recently ran an article explaining the urgent need for young people to donate blood, they stated "blood services are reporting that there are too few young people stepping up to replace them."  As a body of young people, we strongly feel that if blood is donated safely and social distancing is maintained, we can help ensure that many lives are saved amidst the COVID-19 crisis. 
"I recently heard someone say the worst of times bring out the best in people. The truth of this statement is evidenced by the circumstances our country is facing right now. Amidst all the pain and suffering inflicted by this pandemic, people around the nation are completing extraordinary, selfless acts of service. Seeing them inspires me to do the same. That's why I advocate for donating blood. Giving blood may seem like a small, simple task, but it really does save lives – a single person's donation can actually save up to three. Donating is a way to bring about good in this world and reclaim your power in a time that feels powerless." — Claire, Congressional District 2 Representative
We believe that in this time of uncertainty, giving back to the community is an action that all Minnesotans can take. Because of all this, the Minnesota Youth Council strongly encourages young people to schedule an appointment with their local American Red Cross. To learn more about the American Red Cross, their efforts to ensure the safety of donors, and to sign up for an appointment to donate blood, use this link.