MYC Members Address Children and Youth "Issues Briefing"
February 3, 2014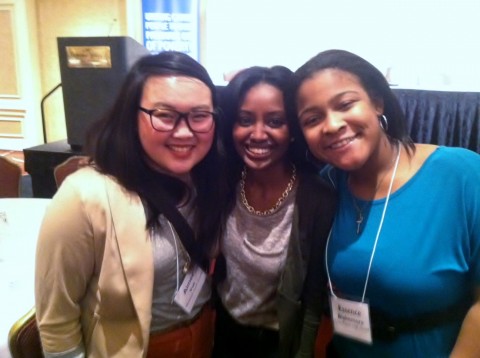 By Kori Redepenning
Minnesota Youth Council members Aimee Vue, Malika Musa, and Essence Blakemore all served as panelists at the 2014 Children and Youth Issues Briefing held Jan. 8 in St. Paul.
Aimee emphasized the importance of engaging youth in policymaking, highlighting the passage of the Minnesota Youth Council Committee bill last spring as part of the "Emerging Program and Policy Initiatives" panel.
Essence and Malika, who served on the Youth Leadership Roundtable in high school, said that to improve K-12 education, the curricula need to become more culturally relevant, and there needs to be time for youth and teachers to build relationships.
All three plan to continue to voice their ideas through their work with the Minnesota legislature and Department of Education, and through their philanthropic work with the youth development intermediary Youthprise.
The briefing was supported by Start Early, Greater Twin Cities United Way, the Sheltering Arms Foundation, Minnesota Council of Nonprofits, and Minnesota Council of Foundations.
■
Redepenning, Kori. "MYC Members Address Children and Youth "Issues Briefing"." Promise Press 17.1 (Winter 2014): 5. Print.