Northfield GradCommunity Summit
January 19, 2017
Inspiring Youth, Creating Change
Youth, educators, family and community members gathered at Carleton College in Northfield, Minnesota on December 9th, 2016, for the Northfield Graduation Summit.  Selected by America's Promise Alliance out of 100 nationwide communities to host a graduation summit, Northfield's event brought together around 200 stakeholders to spend the day learning about best practices and local efforts underway to close the graduation gap and to create pathways for post-high school opportunities.

The day began with a brief welcome kick off, and expression of excitement to support Northfield's youth.  Community leaders shared information on Northfield Promise, the work of the College and Career Readiness Action Team, and the partnership with America's Promise Alliance.  This served as an example of people working together toward a common goal at the national, state, and local levels.
Breakout Sessions: Youth and Adults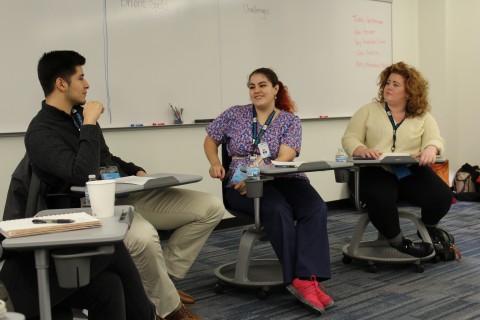 Following the welcoming remarks, the first of two breakout session blocks began, with six sessions geared towards youth, and six breakout sessions geared for adults.  Some of the topics included: Meeting adults and professionals in your community; Paying for college or postsecondary training; Preparing for life after high school; Mentoring youth; and Youth perspectives on finishing college.  Each of the breakout session groups fostered great discussions, questions, and newfound insight.
Generating Solutions to Meet Community Needs
The final portion of the summit consisted of a working lunch as a whole group.  Each table was presented with a challenging question, and the objective was to brainstorm programs, options, availability, and resources needed for these challenges to be overcome.  Each table presented their ideas to the larger group, explaining their concept and action steps.  Out of all the ideas proposed, five were chosen by popular vote as the top ideas.  Thanks to America's Promise Alliance and the other Grad Summit sponsors, up to $10,000 in funding is available to help implement some of the innovative ideas that emerged from the summit.  The five Innovative Ideas that emerged and are currently being considered for funding are:
. Career exploration videos to showcase local businesses & career possibilities (with an intended middle school student audience).

Creation of a high school alumni network and a one-stop shop for local high school alumni to be able to access resources.

Developing intergenerational mentoring opportunities between high school students and Northfield's retired community.

Development of resources and opportunities for parents to have conversations with their children about their child's career interests.

Creation of a resource center about alternatives to a four-year degree after high school.
Special thanks to Minnesota Alliance With Youth, America's Promise Alliance, and AT&T for their support of the 2016 Northfield Graduation Summit!
For more information, or to get involved in our work, please visit: