Northfield Integrates Five Promises Through Healthy Community Initiative
April 1, 2014

Beyond "Cows, Colleges and Contentment," Northfield also offers award-winning integrated services for families and youth, fueled by its Healthy Community Initiative (HCI).
Like the Alliance, HCI is an intermediary organization, the "mortar between the bricks," says Executive Director Zach Pruitt, who is excited by the role such agencies play as collaborators and conveners rather than program-providers.
"Our partners see where there are needs, then we can help bring community entities together to meet those needs," he explains.
For HCI, this means that they — for example — support Promise Fellows in the schools, coordinate a citywide after-school network, offer scholarships to low-income youth to participate in sports, and provide mini-grants for youth-designed community engagement initiatives.
Since their founding in 1993, they have been strengths-based in their approach, seeking partners who see possibilities, and are similarly committed to data and outcomes, all of which has resulted in a history of success in securing funding.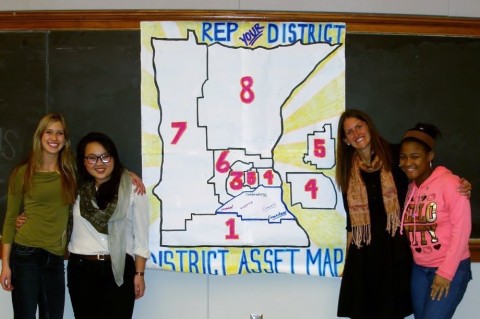 These practices make HCI a logical catalyst for their emerging role as a GradMinnesota community, the state's third (following St. Paul and Duluth). Pruitt sees this as a natural fit with their commitment to the Five Promises and to assets-based youth development. GradMinnesota also complements their Northfield Promise initiative, which focuses on every child, cradle to career, having the supports necessary for success.
Pruitt notes that across all of its initiatives, the school district is a key partner. They have a history of shared success, such as Northfield's jump in high school completion among the Latino population, from 36 to 90+ percent in the past decade. "Without the school district, we wouldn't have accomplished half of what has been done," he attests.
With the Northfield Promise collective impact work as HCI's next key initiative, Pruitt says that the effort remains "unapologetically ambitious."
"That's the next era of our work," he asserts, adding that figuring out what works and helping tell that story are also important roles for this intermediary organization. ■
Return to Spring Promise Press 2014.