One, Two, Three, Breathe!
February 23, 2015
One, Two, Three, Breathe!
By Khadra Mohamed, Promise Fellow at Burnsville ALC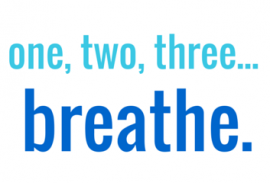 The day is February 9th, 2015 and I return home from a long day of working with my mentees and I have been feeling down lately. I know that I have not been as positive as I was in September and I know deep down I have to go back to the girl who first started this job. Whowas so passionate about working with students. Then like a sign, I see a letter addressed to me sitting on the table. I open it up quizzically and to my surprise see the letter that I had written to myself back in September before I fully started the position. As I read the short piece I smile and reflect on some of my first moments I had at Metcalf, and one of the students who has changed my life for the better.
As I started my time at Metcalf Jr High, I was very nervous about meeting with one particular student. For anonymity I will call her Jessica. For the first couple of weeks at my site, I observed different classrooms and noticed the way Jessica interacted in class and was honestly a little nervous to work with her. She was definitely expressive and vocal in class, and the other students tended to feed off of her energy. The reason why I was nervous was because my personality is definitely more quiet and calm, and she was eccentric and extroverted. Although I did think her energy could be used in a positive way, I did not know how to establish the relationship and connect with her just yet.
The day I was meeting with Jessica, was a day filled with anxiety. My eyes were focused on the clock counting down the time until our meeting. Once I got into my office, I asked the secretary to call Jessica down, and I patiently waited a long 5 minutes for her to finally take a seat across from me. I started off by saying "hi" and asking her how her day was, she simply said "good."
The conversation was robotic and the script I prepared was causing the conversation to sound disingenuous and not the least bit authentic. I then explained to her briefly my role and why I called her down. After my short introduction, she looked at me and said, "Man, life is hard." 45 minutes pass and I feel like I've known her forever. She tells me what she's been going through and how tough her weekend was. She was absolutely correct, life did seem hard. I wanted to help her, but still did not know where to start. I asked her to share more about her experiences and decided to go with my gut instinct and asked her if it was okay if she talked to one of the guidance counselors. I told her that I would accompany her only if she wanted me to, and she replied yes.
From that day, Jessica and I have had such a meaningful relationship. She shared that she dreams of being a lawyer one day, and I told her that with her personality and leadership skills she could achieve her goals. We made a goal list and wrote down SMART goals that she wanted to accomplish. What surprised me the most about her was her resilience and dedication to getting good grades. She told me that she thinks it might benefit her if she switched from regular classes to Bridges classes. (Bridges is an intervention for students who would benefit more from smaller class size, more flexibility, and a more slowly paced curriculum than regular classes). I was extremely proud of her for making that decision. She told me that she wants to get good grades this year because she is sick of not doing well in class. I thought that this was such a great idea, and that she was advocating for herself in the best way possible. Now we meet more than once a week to not only catch up, but also to talk about ways in which she is making steps to achieve her goals. Although it's still early, I am so confident in her skills and I cannot wait to see her grow all the way through the school year.
"I, 2, 3, Breathe. This is just in case you're stressing out at this moment." These were the opening lines of my letter that I wrote to myself. I know myself too well, and I knew back then how I would feel now before it even happened. However, no matter how stressed out I become, coming to my site is always my favorite part of the day. There has not been a day that I have not come home without sharing a funny story with my sister about my day. Seeing my students everyday is enough for me to be motivated, and if there is only one student that makes progress, that is one more student who will take what they have learned and hold it with them.
One of the best parts about my service is hearing students saying that they trust me and that they would like to meet up more than once a week. To me, this is clear evidence that our work matters and that these students have so much to say, and want help. They are just waiting for someone to ask them if they need help.
[From "Voices From the Field: Reflections from Minnesota Alliance With Youth's AmeriCorps Promise Fellows." Winter 2015.]