Promise Fellow Week Great Stories: Summer Job
June 23, 2015
AmeriCorps Promise Fellow Alex Breilein, serving at Denfeld High School in Duluth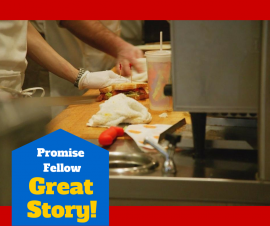 Summer vacation is a couple weeks away.  For me, it means working with Summer School.  For many Focus Students, it means working –  working their first job ever.  That is the case for my Focus Student, Jeremy.  Jeremy wants an income so he may get a cell phone, a PS 3, and a new skateboard.
So, finding a summer job was another project Jeremy and I took on, and there was a lot for him to learn.  Jeremy didn't know where to look for a job, had never created a resume, had never filled out an application, and most nerve-wracking of all, he had never participated in an interview.  Fortunately, he had 2 years of food-service experience working in Denfeld's Deli Management program.  In addition, he had a reference from the Deli Management teacher.  That was a good start.
Next, we had to put these credentials to use by finding a job for Jeremy a job to apply for.  I showed Jeremy craigslist.com, and we spent 30 minutes or so scanning the site until we found on "Prep Cook" position that paid $9 an hour and was close to his house.  This prep cook position was the goal now.
A neat and concise resume package came after that.   I showed Jeremy my resume so he had an outline to use for his own.  Then we broke his resume into 3 sections: Education, Work Experience, and Community Service.  Being on Denfeld's football team fit into Community Service, and Deli Management classes fit into Work Experience.  Later that week, Jeremy got a ride to the restaurant and dropped off his resume.
Now all there was to do was wait.  This was perhaps as difficult as preparing for the interview would be, because he didn't know what his odds were, or if the manager had even reviewed his application.  Everyday, Jeremy would come to me and say, "I haven't heard anything yet."  So, I told Jeremy to call up the manager himself, and find out about the job.
Another week more.  Then finally Jeremy got a call back, and a request for an interview!  Hooray!
But the eminence of the upcoming interview soon set in.  But I would make sure Jeremy was prepared. We discussed what he would wear, how he would shake hands, make eye contact and talk about him Dele Management and personal strengths.  And then we waited a bit more, because the interview was three days away.
The following Monday, we knew what was on one another's minds when we first saw each other.  Immediately, I asked, "How did it go?!"  But, I really didn't need to ask, because I knew from his big grin that he got the job.