AmeriCorps Promise Fellows Poised to Create Historic Impact
December 18, 2014
During the third week in September, Minnesota Alliance With Youth convened nearly 200 new AmeriCorps Promise Fellows to learn, network, plan and collaborate at the annual Promise Fellow Institute.  Gathering at the Earle Brown Heritage Center, the new members spent three days attending trainings, participating in workshops and team-building activities, and getting to know one another.  Partners from St. Paul Youth Services, Minneapolis Public Schools Check and Connect, District 112, Hopkins Public Schools, Minnesota Literacy Council, and the Minnesota Association for Volunteer Administration provided training on the key Promise Fellow intervention areas known as the ABCs; Attendance, Behavior and Core Academics.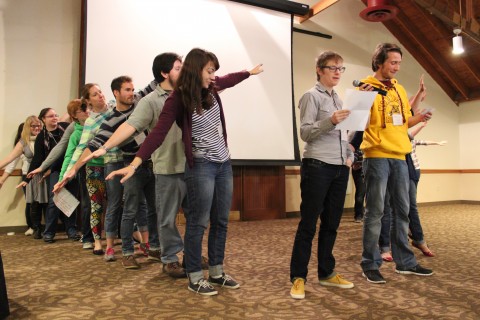 Additionally, spoken word artist and motivational speaker Julia Sewell energized the crowd with her words about inspiration and potential, telling the Fellows "You're only as powerful as you think!"  The message was fitting, as this year, the Alliance's statewide network of host schools, community organizations and Promise Fellows is poised to create historic impact, helping over 6,000 youth in Minnesota overcome obstacles in order to reach their fullest potential and achieve success in school, work and life.  The 2014-15 corps of Promise Fellows is composed of individuals from across the state and country, with backgrounds ranging from current college students to seasoned professionals.
"I walked away from the three days with even more enthusiasm and pride in AmeriCorps, Minnesota Alliance With Youth, and the Promise Fellow program.  The substance and the connections made with other corps members ensures that when the initial glow fades I have been given the tools and ideas to do the service and maintain that pride and enthusiasm in a way that I hope is infectious to those around me," said Joe Pendal, Promise Fellow at Burnsville High School.
The Institute culminated with the official swearing-in of the Fellows, signifying the start of their service with AmeriCorps.  Kate Klitgaard, Program Associate at Serve Minnesota, lead the new members in their oath: "I will get things done for America to make our people safer, smarter, and healthier… I am an AmeriCorps member, and I will get things done."
The 210 Promise Fellows will spend the next 11 months addressing both the achievement gap and the civic engagement gap experienced by many of Minnesota's low-income students and youth of color. Working directly in schools or with youth in afterschool or community programs, Promise Fellows provide academic support, connect youth with opportunities to become involved in service, and mobilize caring adults to connect with youth. AmeriCorps Promise Fellows serve a total of 1720 hours during their term of service, working with youth in grades 6-10 within communities that have the highest annual high school dropout rates and at middle schools that feed into those high schools.
"The 2014-15 corps of Promise Fellows represents the intense commitment in our state to ensuring success for all of our youth," said Sarah Dixon, President & CEO. "Together, Promise Fellows, schools, community partners and host sites will create life-changing impact for our state's next generation of leaders."