Promise Press Winter 2014; Volume 17, Issue 1
January 31, 2014
View full PDF: Promise Press: 2014 Winter Edition
Volume 17, Issue 1
In this issue:
By Jessica Greer
Approximately 300 young people, teachers, youth workers, and policymakers met to discuss the metro area's opportunity and achievement gaps Dec. 10 at a "Summit of Experts" held on the Hamline University campus.
This scholarship will recognize high school seniors who have been involved in Serve a Smile or Global Youth Service Day; they will be eligible to receive funding to support their post-secondary academic pursuits.
By Maddy Wegner
As AmeriCorps celebrates its 20th year, the Alliance celebrates those who participated in its first cohort of Promise Fellows in 1999. Jason Brown was a member of that initial group, and attributes much of his current career happiness at Project SUCCESS in Minneapolis to the relationships he formed and doors that opened through his two-year term of service.
By Jamie Keith
Essence Blakemore, a freshman at Coon Rapids High School, is serving in her second year on the Minnesota Youth Council. Originally from Chicago, Essence has spent most of her life living in St. Paul. She feels that participating in the council has been a transformative experience.
By Essence Blakemore
Jamie is a Promise Fellow who helps with the Minnesota Youth Council (a statewide network of youth and adult representatives from every congressional district), the Leadership Crew (MYC members who've served for two or more years), and our partners at the Minnesota Department of Education.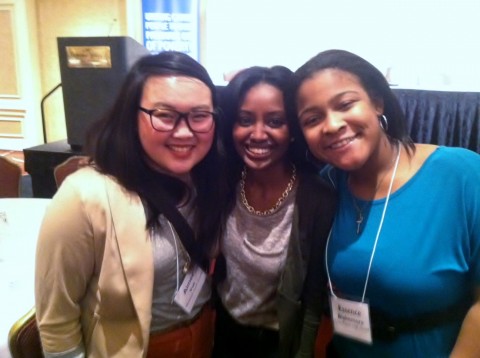 By Kori Redepenning
Minnesota Youth Council members Aimee Vue, Malika Musa, and Essence Blakemore all served as panelists at the 2014 Children and Youth Issues Briefing held Jan. 8 in St. Paul.
By Maddy Wegner
St. Paul is the first of the Twin Cities to enlist as a GradMinnesota community, an outgrowth of the GradNation initiative of America's Promise, dedicated to increasing the graduation rate to 90 percent by 2020. This is an ambitious undertaking given the current rate of just 66 percent graduating in four years. And the picture is worse when broken out by ethnicity; only about half of the city's students of color are graduating on time.
Updates:
Alliance Calendar:
The Promise Press is made possible by:
Editor: Maddy Wegner
Designer: Hannah Zelmer
Contributors: Essence Blakemore, Jessica Greer, Jamie Keith, Kori Redepenning
Production: Neuger Communications Group
---
Engagement. Voice. Success
Since 1997, the Minnesota Alliance With Youth has been working with young people, their schools, and communities to ensure that innovative approaches inspire academic and civic engagement. As the state's leading youth development capacity-builder, convener, and collaborator, the organization catalyzes communities, helping all Minnesota youth graduate from high school on time with plans for ongoing success in school, work, and life. The Alliance serves as a backbone intermediary, impacting individuals and systems, and creating life-changing outcomes.
The mission of the Alliance is to ignite the spark in all young people in Minnesota to become actively engaged, develop strong voices, and acquire skills needed for success in school, work, and life.
The vision of the Alliance is that all young people are highly connected to their communities, have, have hope for a brighter future, and are able to fulfill their dreams. ■