Serve a Smile Grant Recipients Launch Health Initiatives Statewide
April 1, 2014
In March, the Alliance announced 48 grant recipients of the Delta Dental of Minnesota Serve a Smile health initiative, statewide. From Badger to Worthington, young people are leading efforts to teach oral hygiene, share nutrition information, increase fitness, and prevent diabetes — with the support of nearly $30,000 provided through mini-grants.
This is the eleventh year of the initiative, which provides a range of in-kind dental supplies in addition to funding individual programs at up to $1,000.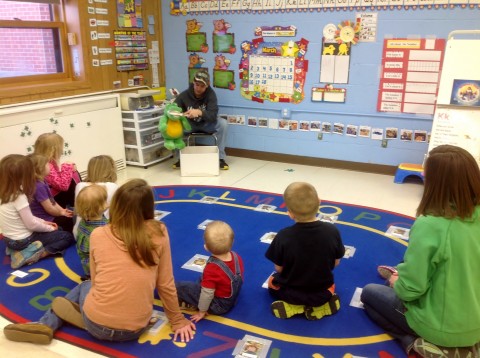 As Sarah Dixon, President and CEO of the Alliance, says: "We are thrilled at the increase in interest over the years, and feel fortunate to partner with Delta Dental to provide youth throughout the state with funds and dental supplies to support service projects in their communities."
One such effort is underway in Badger, Minn., just 10 miles from the Canadian border, where Marvin Windows and Polaris are the biggest employers. While employment is plentiful, incomes are limited, so dental care is often sacrificed, says teacher Gretchen Lee.
"We do screenings for vision and hearing; my biggest hope is that one day that will include dental screenings," says Lee, who convened families — alongside teacher Tanya Byfuglien — with children, birth to age five, in mid-March for an evening of information-sharing and story-telling.
The event for this community of several hundred was a collaboration among the public school, Early Childhood Family Education, and the Future Family, Career and Community Leaders of America (FCCLA) out-of-school-time program.
FCCLA students Tiana Watson and Robby Davy, who'd helped write the proposal to the Alliance and Delta Dental, also helped with the evening. Davy has already seen lasting results from the evening. "One student came up to me during school and said, 'My little sister kept going on and on about how to brush your upper teeth, then your bottom teeth!'"
Watson, who helped with a parallel event for parents, added: "Parents were surprised by the information I presented to them. It was a good reminder about how they and their kids should take care of their teeth."
Included in the event was not only talk of the Tooth Fairy, but also teeth-counting and skills-building. The toddlers learned all about reaching the back molars and flossing with the school's mascot, an alligator, as subject.
Meanwhile, parents learned about when to expect teeth to appear ("eruption"), how to handle cavities ("caries"), and how to help their children learn to brush every tooth.
"It's really basic info, but when you have a single parent working second shift and somebody else putting your child to bed, you don't know if those habits are ingrained or not," says Lee, who adds that the school helps reinforce these messages by having preschool students brush every morning after breakfast.
After all, "If your teeth aren't healthy, you aren't going to eat well. It carries over!" says Lee. ■
Return to Spring Promise Press 2014.