Siblings in Service
January 2, 2020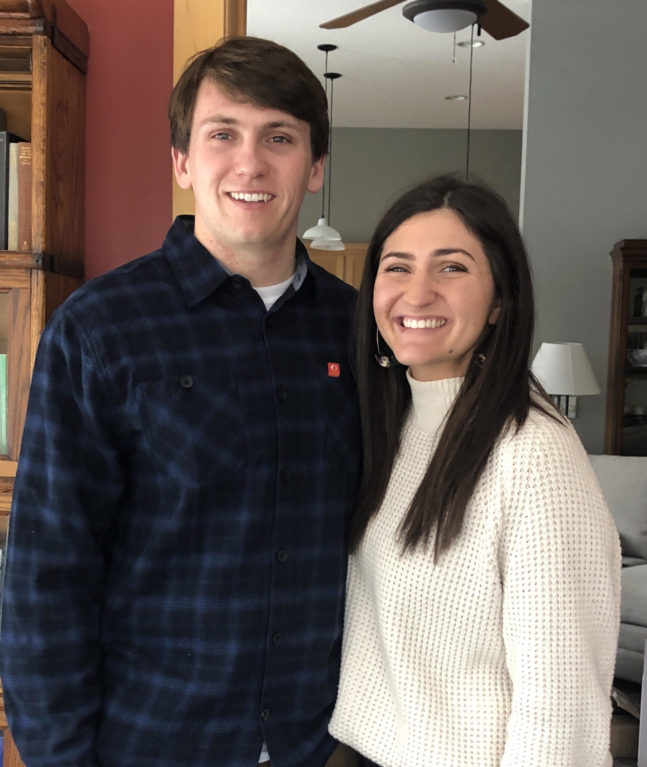 Sam and Lizzie are an AmeriCorps Promise Fellow brother and sister duo!  Sam is serving at Centennial Middle School in Lino Lakes, and Lizzie is at Edison High School in Minneapolis.  We wanted to know more about these siblings' service!
Why did you decide to serve with AmeriCorps?
Sam: "There are a few reasons why I decided to serve with AmeriCorps.  I wanted to gain some experience working with youth in a school setting, as I've thought about pursuing a career within education quite heavily. I've known that I wanted to work with youth for some time now, but I wasn't sure what setting that would be in.  Being a Promise Fellow has really helped me gain clarity in that regard."
Lizzie: "During my last year of college at the University of Minnesota, I realized I wasn't ready to attend graduate school. I majored in Family Social Science and throughout my studies, I thought I wanted to go into Marriage and Family Therapy, however after working over a summer term in the TRIO Upward Bound program, working with youth became something I loved.  That being said, I knew I needed one "gap" year to see if working with youth, specifically in the school system was something I wanted to do. That is why I chose the AmeriCorps/Promise Fellow program. I was drawn to the AmeriCorps benefits, site placement, and support. Overall, I knew this experience would be beneficial for my career journey."
How did you choose your school site?
Sam: "I chose my service location because of some personal connections. My father used to be a principle a John Glen Middle School in North St. Paul and a former colleague of his, and family friend, reached out to my sister and I about becoming a Promise Fellow for a year."
Lizzie: "I chose Edison because I knew it would be a school that would push me to grow the most. I grew up in the suburbs of Minnesota in a school that was predominantly white, middle-upper class families. So what drew me to Edison was their diversity. Diversity with different cultures, races, and socio-economic status."
What has been the most surprising aspect of service so far?
Sam:  "The most surprising aspect of my job so far has been how connected I've become with some of my students. Seeing them for an hour a day, every day, is awesome! It actually feels like I am able to make an impact beyond the classroom."
Lizzie: "The most surprising thing is I don't have much control over anything, other than myself. For an example, it takes time to build relationships with students.  Even if you want things to happen immediately, you have to build trust for those relationships to cultivate. It's also hard sometimes to measure success. You may want students' attendance to go up or their grades to improve, but that also takes time and change within them. Personally, I have learned so much from these students. I have seen how gifted and smart they are, and most of my job is making them see that in themselves, so they can value education and see the opportunities that lie ahead for them."
What do you enjoy most about being a Promise Fellow?
Sam: "What I enjoy the most about being a Promise Fellow are the relationships that I've built with the kids and my supervisor! I also was lucky enough to coach the boys' soccer team this fall, so along with my focus list there are plenty of other faces to say hi to each day. Those little interactions between passing time are the best."
Lizzie: "What I have enjoyed the most being a Promise Fellow is getting to know the students. I have built solid foundations with many of them and it's a joy to come to work every day. That being said, building those relationships take time. It takes time for a young person to trust you and respect you. The most challenging thing for myself has been my own personal journey working here. I have had to address my own inherent biases, judgements, and internal racisms. Things that I was taught or never exposed to. And I believe this is something not a lot of people want to admit or face. But, through my time working here it's crucial to take time, reflect, and challenge those assumptions when they come to you."