Sisters in Service
June 27, 2016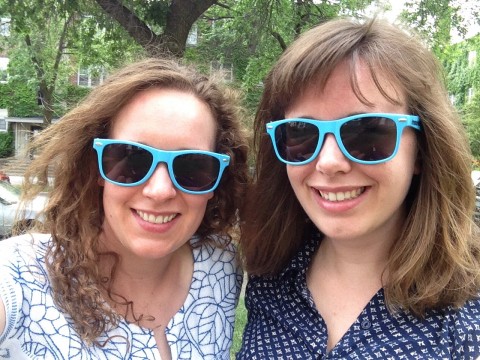 Katherine and Kiera Wilhelm are sisters serving as AmeriCorps Promise Fellows in Minnesota this year.  We chatted with them about their decision to serve, their experience being in AmeriCorps together, and their successes and challenges this year!
Katherine: "I decided to do a year with AmeriCorps because I'm interested in urban education, and AmeriCorps provided a great opportunity to get experience working in a school.  I liked the innovative nature of the Promise Fellow program and its focus on youth development rather than teaching.  This year I am serving at High School for Recording Arts, and I have had the opportunity to play on some of the students' tracks in the studio. I've really enjoyed making music with some of the students at HSRA and talking with them about their work. They are inspiring!!"
Kiera: I decided to serve with AmeriCorps as a gap year between undergraduate and graduate school. I'm interested in public education, and wanted to spend my year in a public school, connecting with students and learning about the public education system from the perspective of a staff member. The Promise Fellow position seemed to be a holistic approach to re-engaging students in school. At Hopkins, I was able to balance my time between in-school tutoring and developing and running after school programs. The most enjoyable part of my service so far has been hanging out in the gym playing basketball and volleyball with the kids in the after school homework help program, after they've completed their work. Its fun just to laugh and goof around, and the relationships that I've built with students during that time has helped me connect and engage with them while working on school work.
Katherine: "Kiera and I really use each other as sounding boards for ideas, struggles, and triumphs we experience at work. Though our host sites are very different, we are both doing this kind of work for the first time and it's refreshing to deconstruct the day with someone I know well and is thinking about similar issues. Also, because our experiences have been so different we've been able to come up with some cool insights into the educational system, and we share a lot of what we are reading about education in the US with each other.  Kiera is in a public middle school in Hopkins and I'm working at a small charter high school in St. Paul, so our experiences have been really different. My role is focused more on getting students to come to school and to advocate for them while they're here, while Kiera works with students directly in class in a more hands-on role."
Kiera: "Katherine and I often chat about our days over dinner. Our schools are very different and some days we feel like our positions have nothing in common, but we understand the stress of the job and celebrate our student's successes with each other. With another housemate serving with College Possible, there are lots of discussions about education policy, pedagogy, and equity in the classroom in our house. I also got to visit Katherine's school to do a chemistry workshop for her kids. I'm in a large, suburban, district junior high school, while Katherine is in a small urban charter school that serves students that have already dropped out. So on the surface, our day-to-day jobs look very different. But essentially our job is to get to know the students that we work with, find out what gets them excited, and help them find positive opportunities and supports within their school and community. It's been fun to see how that has manifested itself in our two very different settings.
Katherine and Kiera both have big plans for the future.  Katherine is hoping to pursue either teaching or social work, and Kiera is entering the Chemistry PhD program at UC Berkeley. "I'm interested in using spectroscopy – the study of how molecules interact with light – to understand energy transfer in biological membranes."