Small Nudge
December 6, 2017
By Emily Spoden, Promise Fellow serving at Northfield High School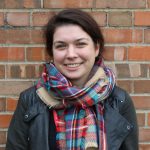 A student who is usually uninspired to do homework came into our office this week during her study hall. She was nervous about a presentation on Greek mythology that she was supposed to give during the next class period.
She told me she was thinking about skipping class with her friends in order to avoid giving the presentation. We talked about what the consequences would be if she did that and how it probably would not help her in the long run. Instead of skipping, I offered to help her prepare so she would feel more confident. As we worked on her presentation together, she realized she knew more than she thought she did about the topic. We practiced pronouncing the Greek names together and organized her PowerPoint so that she felt comfortable with the content.
Later that day she told me she ended up not having to present but, unlike her friends who skipped, received all her "accountability points" because she showed up to class.
The day after, she told me she presented and got a nearly perfect score for her work. I was really encouraged to know that my small nudge was likely what prevented this student from skipping class. It was a reminder that even the smallest support can help a student realize their potential.