St. Paul Becomes GradMinnesota Community
February 3, 2014
By Maddy Wegner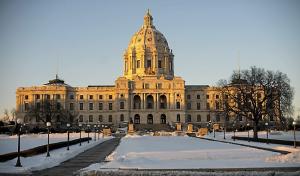 St. Paul is the first of the Twin Cities to enlist as a GradMinnesota community, an outgrowth of the GradNation initiative of America's Promise, dedicated to increasing the graduation rate to 90 percent by 2020. This is an ambitious undertaking given the current rate of just 66 percent graduating in four years. And the picture is worse when broken out by ethnicity; only about half of the city's students of color are graduating on time.
As Christa Anders, co-director of the Saint Paul Children's Collaborative, which supports St. Paul's involvement, asks, "Why isn't it an emergency that half the children in the Twin Cities are not succeeding?"
"Do people know that institutions are performing at a one-half failure rate?" she asks. "Would we allow bridges to perform half the time? Would we allow half of our water to be polluted?"
To help change outcomes for young people, St. Paul received funding from the Annie E. Casey Foundation, which recommended the development of a citywide Youth Master Plan. Adopted by the Saint Paul Children's Collaborative board in 2011, the plan outlines six indicators that seek to ensure that the city becomes a place where all children "learn, grow, and thrive":
1. Children are ready for kindergarten.
2. Children are reading by third grade.
3. Children have health care coverage.
4. Children are connected to one or more caring adults.
5. Children are safe and free from child abuse and neglect.
6. Children graduate from high school.
As last summer's report on the initiative's progress states, the Collaborative's purpose is "to create an infrastructure, across the multiple government and community organizations that work with children and youth, that can support the alignment of budgets, development of legislative proposals, and creation of policies and practices that bring about better outcomes for children and families."
To achieve these goals, the Collaborative receives $750,000 annually to help "move the needle on child outcomes." It began the GradNation work by convening two focus groups of St. Paul students who had dropped out. "There were high levels of trauma in these kids' lives that aren't solved by teachers going to one more professional development class," says Anders, who sees the solutions as "simple" but cautions that not all are school-based.
As to what works, she says: "Make a difference in the life of a child! Ask, 'Are you going to graduate? If not, why not? How can I help?'"
For the Collaborative, clearly children's health and well-being are emergencies that will only be addressed by both individual and collective efforts.
GradMinnesota is one such collective initiative of the Minnesota Alliance With Youth, Governor's office, and Department of Education. To learn more, visit www.mnyouth.net.
■
Wegner, Maddy. "St. Paul Becomes GradMinnesota Community." Promise Press 17.1 (Winter 2014): 6. Print.