Student Perspective On Testing And Discipline
July 5, 2017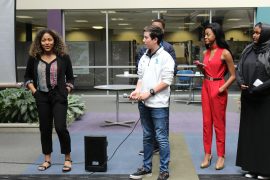 After months of meetings, research, rewrites, and late nights, the young people of the Student Advisory Committee (SAC) to the Minnesota Department of Education (MDE) are proud to release their white paper:
A User-Driven Education System in Minnesota: Supplementing Standardized Tests with Comprehensive Needs Assessments and Community Developed Discipline Policies
Motivated by MDE's process of writing a state plan for the Every Student Succeeds Act, the white paper lays out the Student Advisory Committee's recommendations regarding testing and assessment and identifies opportunities for Minnesota's education system to be more supportive and equitable.
The students of the SAC hope you share this white paper widely, engage in dialogue, and work for change.
About the Student Advisory Committee
As Education Committee to the Minnesota Youth Council, the Student Advisory Committee is composed of 8th-12th graders from all eight of Minnesota's congressional districts who serve as legislative committee representatives to the state legislature. The Student Advisory Committee provides consultation, representation, and student leadership to the Minnesota Department of Education while mitigating tokenism, manipulation, and the involvement of young people as decoration or display. The Committee believes that by working towards a Minnesota that shares power with young people, the state becomes a better place to live for all to live, no matter one's age.
The Student Advisory Committee is a subcommittee of the Minnesota Youth Council and an initiative of Minnesota Alliance With Youth. In 2013, the Minnesota Youth Council became the first and only legislatively mandated 'voice of youth' to a state legislature in the country.
—-
Contact: Grayson Carr, Education Partnerships AmeriCorps Promise Fellow, gcarr@mnyouth.net or Minnesota Alliance With Youth at 651.528.8589