Students Help Flood Victims
March 23, 2010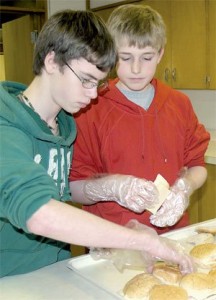 "SANDWICH BRIGADE" AT WORK

By Jeff Hage
Published March 22, 2010
The Daily Journal
When the American Red Cross needed 4,000 ham sandwiches made and bagged it turned to an unlikely source: 6th, 7th and 8th grades from Fergus Falls.
It was unlikely because younger Fergus Falls students don't often have an opportunity to help their flood-striken neighbors to the west and also because students where giving up their own free time Friday during a half-day of school.
The sandwich brigade, as it came to be called, was one of many middle school "Make a Difference" projects that is part of a "semester of service" for the students.
Students initially wanted to pitch in to help sandbaggers on the flood-control lines. But Red Cross organizers felt the sandbags would be too heavy for the students, said Katie Gard, an AmeriCorps fellow working with the Fergus Falls School District.
But the perfect "Plan B" was found at Messiah Lutheran Church on the northeast side of Fargo where volunteer sandbaggers, police officers and National Guard members have been turning for light meals in between their hard work.
Parish nurse Sandi Kimmet had four stations lined up for the busload of students. When they weren't making sandwiches or bagging them, students found themselves rolling bandages for earthquake victims in Haiti or writing thank-you cards to the many volunteers who were giving their time to flood relief efforts.
Student Sydney Overbo didn't think twice about giving up her free afternoon and immediately volunteered for the effort after hearing a school announcement seeking helpers.
"I like making a difference in people's lives," Sydney said.
Student Tosten Mann shared similar sentiments.
"I like helping other people and they needed help making more sandwiches," Tosten said.
Jeren McNitch had heard the stories about the flooding and how hard people were working as a group to help with sandbagging efforts.
"I wanted to go help all the people who were sandbagging," Jeren said.
In all, 31 Fergus Falls students made the trip to Fargo, Gard said. The trip to Fargo was the student's own idea.
That's when school officials contacted the American Red Cross and were told that sandbagging wasn't an option because of the students' size. But Red Cross officials weren't about to turn 31 helpers away.
"They were elated that our students wanted to help," Gard said.
So was Kimmet, the parish nurse at Messiah Lutheran Church.
"Even though things have slowed down at Sandbag Central (a location at the city shops where machines are used to fill 5,000 sandbags an hour) they're still working 8 a.m. to 8 p.m. every night," Kimmet said. "We'll be using these sandwiches all week."
Kimmet said she was touched by the students' willingness to help and was sure that they were learning an important lesson. In addition to students giving up their free afternoon, Fergus Falls businesses donated bread and meat to the cause.
"I am so impressed with the outpouring of care from Fergus Falls," Kimmet said.
After the sandwiches were made and placed in bags Kimmet had hoped to take the students on a bus tour of Fargo's flooded areas so they could see for themselves some of the devastation the rising Red River is capable of causing.
"It's important for them to see where all their hard work is going," Kimmet said.