Talking Circle
October 4, 2016
Talking Circle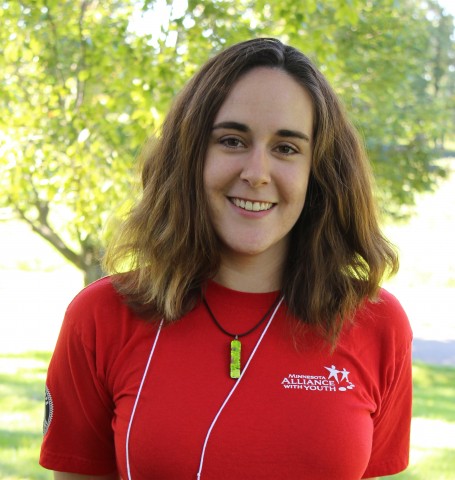 By Meredith Myers-Petro, AmeriCorps Promise Fellow serving with Minneapolis Public Schools, Check & Connect, Ann Sullivan Middle School 
This month is my first month of service, and it has been filled with a lot of uncertainty as I attempt to find my niche in the school. I do not have a lot of experience with middle school age children, and I find that I am constantly surprised and impressed by their insights and observations. One student in particular stands out as I think back over the last month.
I met him in a talking circle- a group of adults (social workers, teachers, counselors, and me) had organized some time during class for the students to reflect and discuss their feelings about recent events in the community. The incident in the mall in St. Cloud, as well as recent police shootings were discussed. The students and adults passed around a talking stick and took turns sharing their thoughts and experiences.
In the beginning of the conversation, several of the students were too shy to speak, or if they did speak they did not take the opportunity seriously. There was a lot of giggling. Then the talking stick got to one of the students on my focus list, a young African-American man. He spoke about having watched the presidential debate, and how terrified he was about the recent police shootings.
As he spoke, his voice got thick, and tears came to his eyes. He shared about how his house was very close to a police precinct, and whenever he walked by it he made sure he never had his hands in his pockets, in case the police officers suspected him of holding a weapon. He said he was scared all the time, and he thought he would be killed if he ever had an encounter with the police.
His sharing silenced the rest of the class, and when he passed the stick on the other students began to share their experiences. They spoke about how they were worried about the anti-Muslim sentiments they had seen expressed after the stabbing in St. Cloud, and about how they were concerned that if anti-immigration laws were passed, they might not be able to see their families in other countries again.
My student's bravery, honesty, and self-awareness started a chain reaction of honest, emotional sharing, and while there was still the occasional giggle from the sixth graders, I think the students greatly benefited from the discussion.
[From "Voices From the Field: Reflections from Minnesota Alliance With Youth's AmeriCorps Members." Fall 2016.]