Thank you, AmeriCorps Promise Fellows!
July 8, 2016
Thank You, Ms. Marston!
From a Student at Waconia Public Schools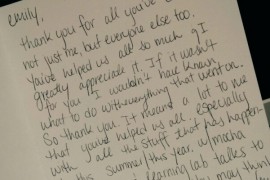 "Thank you for all you've done for not just me, but everyone else too.  You've helped us all so much.  I greatly appreciate it.  If it wasn't for you I wouldn't have known what to do with everything that went on.  So thank you.  It means a lot to me that you've helped us all.  Especially with all the stuff that has happened this summer/this year."
Thank you, Ms. Cadwell!
From a student at Stillwater Junior High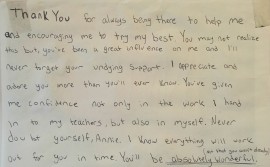 "Thank you for always being there to help me and encouraging me to try my best. You may  not realize this, but you've been a great influence on me and I'll never forget your undying support. I appreciate and adore you more than you'll ever know.  You've given me confidence not only in the work I hand in to my teachers, but also in myself."
Thank you, Ms. Beeksma!
From a student at Harbor City International School in Duluth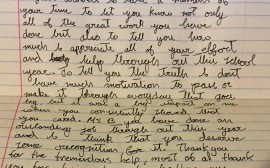 "I just wanted to take a moment of your time to let you know not only all of the great work you have done but also to tell you how much I appreciate all of your effort and help through all this school year. …it was a big support on me when you continually showed you cared."
[From "Voices From the Field: Reflections from Minnesota Alliance With Youth's AmeriCorps Promise Fellows." Summer 2016.]