What is a "Bilingual Seal?"
September 13, 2017
By: Emily Kay, GradMinnesota AmeriCorps VISTA
How many languages do you speak, read, and write fluently?  In Minnesota, 8.3% of K-12 public school students are identified as English Language Learners.  The Minneapolis Public School district serves about 35,000 students that speak over 90 different languages!  How is this asset recognized?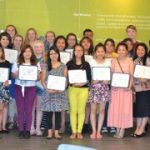 In June of 2015, the Minnesota legislature enacted bilingual and multilingual seals and world language proficiency certificate legislation to acknowledge and celebrate Minnesota high school students with proficiency in both English and another language.  Since 2015, each spring, districts can offer students in grades 10, 11, or 12 the opportunity to demonstrate their language proficiency skills using an approved assessment. Minnesota districts and charter schools may award Minnesota bilingual and multilingual seals and world language proficiency certificates to graduating high school students who have demonstrated the required levels of language proficiency in languages other than English, including American Sign Language (ASL) and American Indian (indigenous) languages (see http://education.state.mn.us/MDE/dse/stds/world/). Students can earn also earn college semester credit through student Minnesota State colleges or universities
related to the level of proficiency the student demonstrates on the assessment.
Since 2009, Minneapolis Public Schools has recognized students with language proficiency other than English through World Language Proficiency Certificates.  This district-wide initiative was implemented as a way to highlight the assets of Minneapolis students through community-wide exposure to the various languages spoken.
As an AmeriCorps VISTA Member, I had the opportunity to assist with proctoring and facilitating a Bilingual Seals Testing session.  Language exams were offered to Minneapolis students in Spanish, Hmong, Somali, French, German, and Russian.  During the test, students were prompted to show their language proficiency in the respective language through writing, speaking, listening, and reading.  When a student earns a seal or a world language proficiency certificate, a note is made on their transcript.  Upon that student's high school completion, a "Bilingual Seal" is placed on their diploma.  According to records at the MN Department of Education, Minneapolis Public Schools awarded 303 students with a Language Proficiency Certificate in 2014-15; and in the 2015-16 year the number increased to 343.
The students who attended these sessions were motivated, proud, and hard-working.  It was an honor to be a part of this process. Congratulations to the students!