What's Working: 7 Tips for Using Collective Impact to Raise Graduation Rates
July 27, 2016
By Eva Harder, originally appeared on America's Promise Alliance's blog on July 12, 2016.
Can collective impact raise graduation rates? That's the question representatives from two nonprofits, a government agency, and the private sector explored at this summer's National Forum on Education Policy.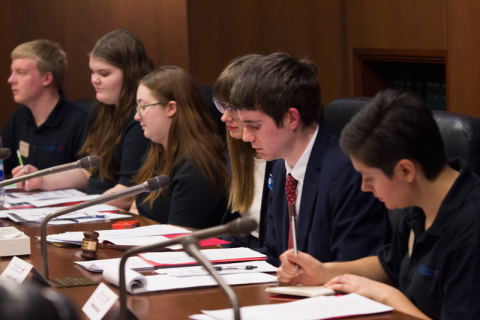 The Education Commission of the States hosted the forum, holding up the GradNation State Activation Initiative as an example of what's working to raise graduation rates at the state level.
The initiative, a partnership between Pearson and America's Promise Alliance, supports the work of state-level organizations in Arizona, Massachusetts and Minnesota to increase graduation rates. The panel at ECS included representatives from Minnesota, speaking about their collective impact model.
Collective impact has been defined as "the commitment of a group of important actors from different sectors to a common agenda for solving a specific social problem at scale."
In 2015, Minnesota students had an 81.9 percent four-year graduation rate. But the graduation gap was steep – 87 percent of white students graduated on time, but only 68 percent of students of color did.
To narrow the gap, GradMinnesota – a statewide initiative led by Minnesota Alliance With Youth, the Minnesota Department of Education and the Office of the Governor – recruited dozens of major partners and began working together.
Using a collective impact model, GradMinnesota is bringing together diverse stakeholders to develop a framework of common goals, shared agendas, collective measures and unified messages to raise graduation rates in the state.
"People are frustrated by the issue and say they don't know what to do," said Cammy Lehr, GradMinnesota project manager at Minnesota Alliance With Youth. "But we know what to do. We have examples of what works."
Lehr says the collective impact approach is key to raising graduation rates in the state. For others interested in the model, she has seven tips.
Start with folks you know. "Some of the strongest allies are those you already know," Lehr said. "Strengthen existing partnerships before setting out to create new ones."
Learn from one another. "Reciprocal interaction is key. Be inclusive and sit at others' tables."
Seek out and incorporate diverse partners. Lehr encouraged diversity both in background and in areas of expertise. "Leaders of this initiative bring their expertise to the table – researcher, policy maker, community nonprofit, government [employee], educator and counselor."
Don't let funding stop you. "Start the work even if you have minimal funding."
Have measurable goals. "Use data and be persistent!"
Set milestones. "Mechanisms and milestones hold you accountable and help you track progress."
Include the voices of young people. "It's not for or and youth. It's with youth. Young people are essential partners in this work."
"There is not one best or magic solution," Lehr concluded. But whatever you do, she said, join with others. "No one organization can solve the issue on its own."
This article is part of the "What's Working" series, which highlights promising practices for helping to close the graduation gap in communities and states across the country.
To get more news about graduation rates and effective practices to improve them, join the GradNation Learning Community. Just send an email to Eboni-Rose Thompson with your name, email address and organizational affiliation. To join the conversation on Twitter, use #GradNation.