Young People are Leaders of GradNation, Too
July 5, 2016
By: Rachael Tutwiler Fortune, Director, Alliance Engagement at America's Promise Alliance
This article was originally published by America's Promise Alliance.
It's not a field trip. It's their job.
Young people in Minnesota – specifically members of the Minnesota Youth Council — have the right and responsibility, recognized in state law, to provide advice and recommendations to state legislators and the governor on issues affecting youth.
A few weeks ago, 175 young people in grades 5 through 12 attended Youth Day at the Capitol in St. Paul, asking well-researched questions and offering clear opinions on the availability of before- and after-school programs for students from low-income families, voter turnout, access to quality data, and high school graduation requirements.
A co-sponsor of the day's events, Minnesota Alliance With Youth, recently received a $200,000 grant through the GradNation State Activation Initiative, a collaboration between America's Promise Alliance and Pearson to raise graduation rates. Through GradMinnesota, Minnesota Alliance With Youth is working to close statewide graduation gaps for students of color, low-income students, English language learners and students with disabilities.
This picture gallery highlights key moments from a powerful day of youth advocacy and a national model of youth civic engagement. (Photo Credit: Judy Griesedieck)
Youth Day at the Capitol began at Minnesota's Wilder Foundation where presenters used games and innovative engagement strategies like kahoot.it to train and inform Minnesota youth on key legislative bills.
Minnesota Secretary of State Steve Simon, an opening speaker, stressed the importance of developing good habits early. "On your 18th birthday, one of the greatest gifts you receive is real political power," he told youth participants. "Our voice is our vote. Our vote isour voice."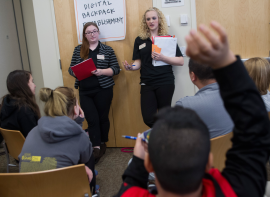 Breakout sessions were led by Minnesota Youth Council members who would later decide whether or not to endorse each bill. The breakout sessions gave the young leaders an opportunity to hear directly from their constituency.
State legislators came to the committee meeting, hoping to win the Minnesota Youth Council's endorsement. Senator Kevin Dahle (above), the chief author of an Afterschool Funding bill, succeeded in winning unanimous approval from the students. Today only 15 percent of Minnesota's K-12 youth are able to participate in afterschool programs. The number is low, in part because in 2007, $11.4 million dollars in afterschool funding was cut from the state budget.

When Minnesota Youth Council member Rogelio Salinas (second from right) was asked what he most enjoys about Youth Day at the Capitol, he said, "It exposes K-12 students to the political process through the lens of other youth. It's a joy to see the mutual respect of all engaged parties."

If these are the faces and the minds of Minnesota's future leaders, the state is in good hands.
Sponsors of Youth Day at the Capitol include Minnesota Alliance With Youth, IgniteAfterschool, Youthprise, YWCA of Minneapolis, Minnesota Association for the Education of Young Children (MnAEYC) & Minnesota School-Age Care Alliance (MnSACA), Minnesota Community Education Association (MCEA), and Kids Voting St. Paul.
This article is part of the "What's Working" series, which highlights promising practices for helping to close the graduation gap in communities and states across the country.