"Youth Perspectives at a Minnesota Alliance With Youth Summit"
December 23, 2013
Please read this great write-up of the GradMinnesota Metro Community Summit's fishbowl discussion from Dr. Angie Pohl who coordinates Check and Connect efforts at the University of Minnesota!
Full Article "Youth Perspectives at a Minnesota Alliance with Youth Summit"  posted December 17, 2013 by Angie Pohl: University of Minnesota's Check & Connect blog "Attend, Engage, Invest."
Article Excerpt:
On December 10, 2013, I attended the Minnesota Alliance with Youth GradMinnesota Summit — A Summit of Experts: Generating Solutions to Address Dropout and the Achievement Gap. The event brought together youth, educators, mentors, AmeriCorps Promise Fellows, elected officials, and others invested in youth issues in their Minnesota communities to discuss ways to increase youth engagement, improve graduation rates, and ensure postsecondary success. The strength in this event, unlike other similar events I've attended, was the active involvement of youth (and not just the top students in the school) in every aspect of the event and how effectively the youth voices were shared and captured.
Fishbowl Activity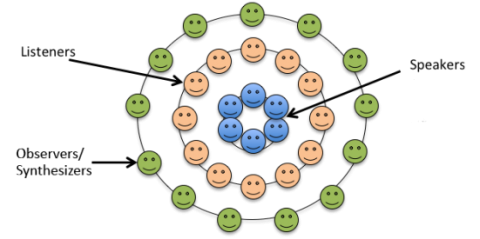 One of the most powerful activities during the Summit was the "Fishbowl" activity. In this activity, a pre-selected small group of youth and adults (6-8 individuals is the recommendation) formed an inner circle of speakers whose role it was to respond to discussion questions generated by the Summit planners. A second circle of listeners, both youth and adults, formed around the inner circle. After 45 minutes of discussion by the speakers, the listeners were provided time to respond to the speakers. A third group of observers/synthesizers, who were to listen and take notes and bring the information with them to the summit's culminating activity, formed the outermost circle.
As a synthesizer, I came away with two key insights from the speakers in this activity.
When asked about the individuals supporting them the most toward graduation, every speaker named a parent or relative. This emphasized the importance of family engagement in education and how key it is for school personnel to value and promote family engagement.
When asked to describe their schools, the youth in the group repeatedly observed that if students are motivated and engaged, there are people and resources in their schools to support them and help them to be successful. If students appear unmotivated or disengaged, there are few resources to support them and few adults reaching out and offering them support. In fact, even if disengaged students ask for help or try to get involved in an activity that may help to re-engage them in school and their learning, they are turned away, seemingly punished for their past behavior. The students also felt like expectations for students who were unmotivated or misbehaved were low, and so meeting those expectations didn't require a change in behavior. These comments emphasized the need for schools to hold high expectations for ALL students and then put in place supports to help ALL students achieve those expectations—not just supporting those who ask for help, but reaching out to students showing signs of disengagement to get them back on track to meet expectations.
Suggested Strategies
The culminating event of the Summit was for small groups of youth and adults to contribute to a collective statement to be integrated into a call to action. The small groups discussed best possible outcomes of the GradMinnesota initiative and the actions that must be taken to achieve those outcomes. Some suggestions for strategies to support youth included:
Communicate high expectations to all students.
Make resources, extra-curricular activities, and opportunities available to all students, regardless of past school performance.
Ensure that all students are connected to someone who will motivate them and push them to succeed.
Teach students self-advocacy skills.
Teach students coping skills so that they are able to deal with negative experiences and critical feedback in an appropriate way.
Help students see the relevance and value of education.
Connect students to a caring adult who can expose them to opportunities for their future that they may not have considered.
Connect with families and try to involve them in their child's education.
Involve community members and organizations in education as much as possible – try to get them to support what's happening in schools, to hold high expectations for all youth, and to create opportunities to engage and support youth in the community.
Reach out to students – don't wait for them to ask for help. (One student mentioned a saying from her teacher: "A head laid down is a hand raised.")
Conclusions
I came away from the event 1) impressed by the youth involved in the event and their vision for how to support students, and 2) reaffirmed in the need for programs such as Check & Connect, which seek to engage youth in school and learning through connection with a caring adult who monitors their educational progress and connects them to appropriate resources and opportunities. Over and over as students shared struggles in their schools or ideas for how to support students, Check & Connect fit as a solution or aligned with their suggested solution. Each of the 10 suggested by youth and youth advocates (see list above) is embedded within Check & Connect. I'm excited to see the ideas of the youth and youth advocates participating in this Summit translated into action!

 Read the full article here.
Our sincerest gratitude for attendance and participation in our Summit!!
About the Author: Angie Pohl, Ph.D. provides training nationally and internationally on Check & Connect, serves as an investigator on several Check & Connect research projects currently underway, and is one of the authors of the 2012 Check & Connect manual, "Implementing with Fidelity".
Article from: University of Minnesota's Check & Connect blog.