Youth Voice Becomes Law in Minnesota!
May 24, 2013
Dear Friends and Supporters –
We are so excited to be sharing with you good news! For the first time in state history, Minnesota youth now have an official voice in legislation that affects them directly.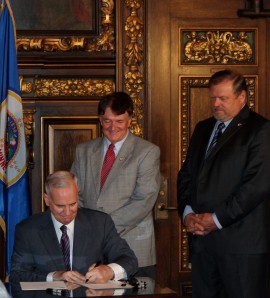 The Minnesota Youth Council Committee Bill passed Wednesday, May 22 – part of the education finance omnibus bill.  Thanks to all of you who helped make this aspiration a reality!  Special thanks to Chief Authors Representative Marquart and Senator Dahle, as well as Representatives Bly, Clark, Davnie, Dehn, Dorholt, Nornes, Radinovich, Selcer, Ward, and Woodard, and Senators Carlson, Eaton, Dibble and Wiklund. Thanks also to Kori Redepenning, the Alliance's Director of Engagement and Policy, the Alliance staff, and all the MYC members who worked tirelessly to advance this legislation. Youth voice is now the law!
As many of you know, the Council draws 72 youth and adult representatives from each of the congressional districts statewide – which include eight representatives who serve "at-large" – in a unique partnership to address issues of interest to young people.  The bill formalizes a relationship that has been underway since 2005, led by the Alliance. Eighth- through twelfth-grade Council members provide guidance to the legislature, governor, and Department of Education on issues affecting young people.
Already the Council has developed and administered a statewide survey assessing top issues of concern to young people, made more than 65 individual visits to legislators to share information on the bill, and testified before both houses. Of these efforts, Council member Nick Plaza, a senior at Kennedy Secondary School in Fergus Falls, most enjoyed "connecting issues in my community to a statewide stage" by meeting with his legislators. This year the Council had the added support of Minneapolis-based youth intermediary Youthprise and the nonprofit youthrive, partners in building youth capacity to lead change in their communities.
Minnesota is one of fewer than a dozen states nationally to formalize this relationship between policymakers and those too young to vote. As Kori says, "The signing of this bill is the first step in providing opportunities for youth all across Minnesota to be part of the legislative process."
With passage of the bill, Council member Kevin Nguyen – a sophomore at Highland Park high school in St. Paul – is already thinking beyond Minnesota. "I hope that the MYC becomes one of the state models for other upcoming state councils in the U.S.," he says.
You all know that youth voice has been an important and integral part of the Alliance's work since our inception. Passage of this legislation underscores that importance.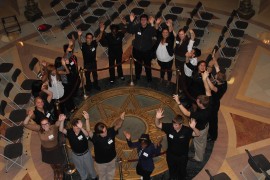 We look forward to partnering with you on youth issues of concern to us all!
Sarah Dixon, President & CEO, Minnesota Alliance With Youth