VISTAs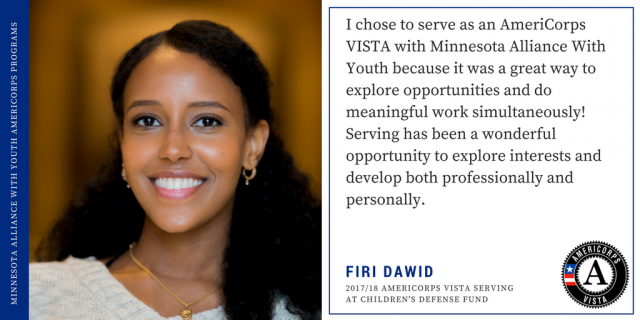 AmeriCorps VISTAs
Benefits of ServiceLearn about our Sites!
The Alliance's AmeriCorps VISTA (Volunteers In Service To America) program builds organizational capacity by strengthening and connecting existing resources and best practices to better serve youth, especially young people of color and young people living in poverty.
Hosted at partner agencies statewide, such as the Amherst H. Wilder Foundation, Big Brothers Big Sisters of the Greater Twin Cities, Minneapolis Public Schools, Ignite Afterschool, Alliance AmeriCorps VISTAs support and amplify the capacity of organizations to be effective and powerful solutions in addressing poverty and educational inequities.  The service of VISTA members allows partner organizations to support more youth to graduate and works to close the opportunity and achievement gaps in Minnesota.
Key Strategies
Through their service, Alliance VISTAs implement three key strategies:
Build capacity at their host site organization to help address education inequities such as the achievement and opportunity gaps
Coordinate efforts that bridge and build the integration of school and community wide support for youth, focused on providing and sharing resources that increase a young person's school attendance, behavior and/or course performance (all indicators with a strong link to academic engagement and high school graduation)
Actively engage youth as agents of change in closing the opportunity and achievement gaps in their communities
Apply TODAY!
Interested in learning more, but not quite ready to apply? We'd love to connect with you!
Toolbox
Access and download the resources and information VISTAs use to inform their service.
VISTA Toolbox
Become A Host Partner
Build the capacity of your organization to close the achievement gap by hosting an AmeriCorps VISTA member.
Learn More