Key Initiatives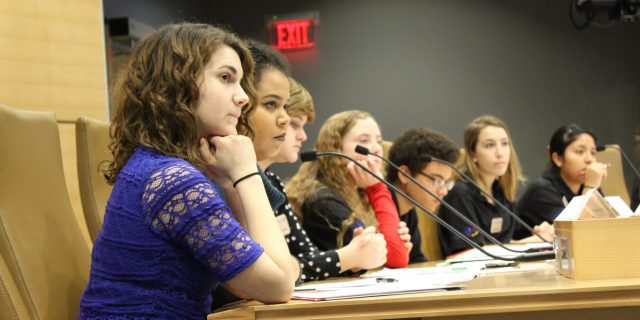 Policy Initiative
The MYC holds legislative meetings several times a year during the MN Legislative Session.  Senators and Representatives are invited to present bills impacting youth and provide testimony to the full council.  MYC members provide insight and feedback on the issues through the formal committee meetings and feedback letters to the bill authors.
Visit the MN State Legislature's page on the Minnesota Youth Council!
Watch videos of the MYC Legislative Committee meetings and read recent feedback letters on proposed legislation:
Watch MYC MeetingsRead feedback letters
Hear members of the Minnesota Youth Council testify in front of the House Education Finance Committee on January 17th, 2019- the MYC was invited to share their insights and opinions into the issues most impacting our state's young people!
Youth Voice is Law
In 2013, the Minnesota Legislature formally recognized the work of the MYC, passing into law the Minnesota Youth Council Committee Bill, which establishes the group as the official voice for youth to provide advice and recommendations to the legislature and the governor on issues affecting youth and to serve as a liaison for youth around the state to the legislature and the governor.
Watch: How The Minnesota Youth Council Bill Became Law!
Education Initiative
The MYC strives to ensure equal access to learning opportunities and increase the options available for students in order to create better educational experiences. The Minnesota Youth Council works in partnership with the Minnesota Department of Education (MDE), comprising the Student Advisory Committee to the MDE, a group that advises the Commissioner of Education and other MDE staff on youth issues in education, and strives to advance equity, personalized and holistic education for all young people in Minnesota.
Check out the MDE's page about the MYC!
Highlights
In 2020, Youthprise and the Minnesota Youth Council joined together to host a Virtual Town Hall on Student Experiences with Distance Learning, discussing the challenges of distance learning, inequalities, policy recommendations and opportunities. Read over the Key Takeaways and Policy Recommendations from the event.
In 2016, the MYC partnered with the Minnesota Department of Education's School Safety Technical Assistance Center to implement bullying prevention and intervention strategies in schools across the state.
In 2017, youth leaders authored a white paper on testing and discipline; "A User-Driven Education System in Minnesota Supplementing Standardized Tests with Comprehensive Needs Assessments and Community Developed Discipline Policies."