Restorative Practices Summit 2018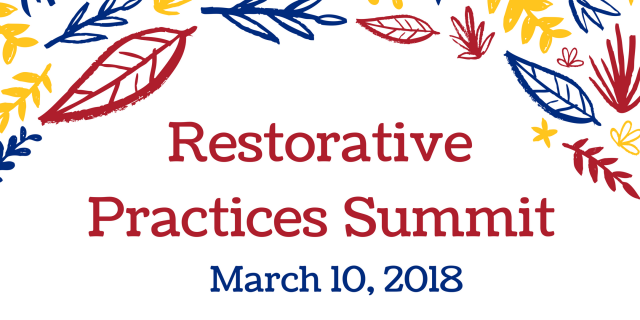 GradMinnesota and the Solutions Not Suspensions Coalition invite you to participate in a Restorative Practices Summit on March 10, 2018, hosted by Laura Jeffrey Academy. Please join us in building a richer, stronger, and closer community of Restorative Practices Practitioners in Minnesota.
Due to capacity, registration for this event is closed! 
Please reference THIS PAGE for parking information (on-street in the neighborhood) and driving directions.   
If you require special assistance or accommodations with parking, please email ksuchomel@mnyouth.net.
Bus: Routes 63, 84, 21, and the A Line all have stops near the school.
AGENDA  
8:30-9:00am: Check-in and Registration
9:00-9:15am: Welcome and Statement of Purpose
9:15-10:15am: Youth Panel and Storytelling
10:15-10:30am: Break/Transition
10:30-12:15pm: Workshops/Circles Round 1
12:15-1:15pm Lunch* (Taco Bar from Burrito Mercado) and Resource Fair
1:30-3:15pm: Workshops/Circles Round 2
3:15-3:30pm: Break/Transition
3:30-4:00pm: Closing and Reflection
Workshop Themes:
"The Pathway To Education Equity is Paved with Community at The Center" (90 min) – Julia Freeman
"How Can We Turn a Moment of Conflict into a Moment of Realization?" (90 min) – Cindy Zwicky
"Dealing with Behavior Challenges of Misunderstood/ Misdiagnosed Kids" (45 min) – Heather Nardi
"Strategic Thinking in Restorative Practices" (45 min) – Cynthia Ford
"People of Color in Restorative Practices Support Circle" (90 min) – Sharon Goens Bradley
"Tensions and Mess: How to Expand and Deepen Restorative Practices in Schools" (90 min) – Nancy Reistenberg
"Implicit Bias" (90 min) – Toya Woodland
"Alone we are strong…Together we are stronger: Student Led Community Circle" (90 min) – Sade Massey and Johnae Wiley
"The Occupation Will Not Be Normalized: Minnesota Secondary Students' Perceptions of School Police Officers" (45 min) – Christen Pentek
"Navigating the frustrations of implementing restorative practices in schools" (90 min) – Kayla Campanelli, Chris Mendez, & Terrence Thigpen
---
For more information, questions or feedback contact: solutionsnotsuspensions@gmail.com.