Promise Fellows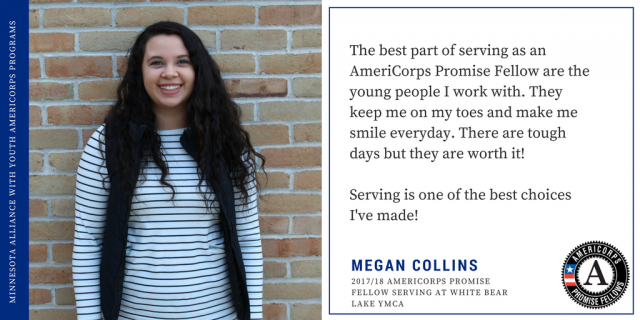 Why Promise Fellows?
Benefits of ServiceLearn about our Sites!
Young people in Minnesota are facing a graduation crisis.  Nearly 1 in 5 Minnesota high school students, some 17%, did not graduate on time in 2018. Those who do not graduate are disproportionately lower-income students and students of color.  These young people are not just statistics, they are students with great potential, but who, over time, become academically disengaged; not showing up for school, receiving suspensions, failing to turn in homework, and earning failing or low course grades.  As these young people become increasingly disconnected from the school and community, they become more and more at risk of dropping out.
AmeriCorps Promise Fellows assist youth in reaching their full potential and set them on a trajectory for high school graduation and lifelong success.  Committed to providing the right support to the right youth at the right time, Promise Fellows are working to overcome the challenges facing Minnesota students.  Learn more about the impact of Promise Fellows last year!
Promise Fellow FAQ
What Promise Fellows Do
CARING ADULT SUPPORTS
Informal mentoring and tutoring
Assisting students with work completion
Calling home when is a student is absent
Service and Service-LearNing Supports
Encouraging students to serve as a mentor to younger children
Connecting youth to volunteer opportunities
Supporting service-learning projects
out-of-school supports
Facilitating after-school clubs
Encouraging student to join sports teams or activities
Organizing programming over lunchtime
Interested in learning more, but not quite ready to apply? We'd love to connect with you!
Toolbox
Access and download the resources and information Promise Fellows need to ensure youth success.
Resources and information
Become A Host Partner
Support student success at your school or organization by hosting an AmeriCorps Promise Fellow.
Learn More