Benefits of Service
• • •
Making an Impact

As an AmeriCorps member with Minnesota Alliance With Youth, you'll not only make a measurable impact in the lives of the students and communities you serve, but you'll also grow as an individual. During your service, you'll develop leadership and professional skills that will help you on your Life After AmeriCorps path.
LIVING ALLOWANCE
The AmeriCorps living allowance is the financial support provided to service members during their term of service. AmeriCorps provides approximately $22,882 for AmeriCorps VISTA service (this amount varies by county of service). VISTA service is full time, 40 hours-a-week, for 12 months. Full-Time (40 hour/week).
Full time Promise Fellows earn $1000 twice a month (for 35 hours of service a week).  The Alliance also offers positions at fewer hours a week with a prorated stipend. Check out the position descriptions for each of our positions and apply to the one that's best for you!
Segal Education Award
As a member of a federal AmeriCorps program, you are eligible to earn the Segal Education Award ($4,826.5 for school-year AmeriCorps Promise Fellows, $6,895 for full-time members, prorated for part-time members) at the successful completion of your service year, which can go toward pursuing further education or to pay off existing, qualified student loans. Additionally, over 100 colleges and universities nationwide augment the Segal Education Award in some way, including matching your award amount (see the complete list of institutions who will match your award), waived registration fees, course credits, or service scholarships. 
Your service will also give you access to qualified federal student loan forbearance and Public Service Loan Forgiveness Program eligibility. Loans made by state agencies are also considered qualified. 
Health and Well-Being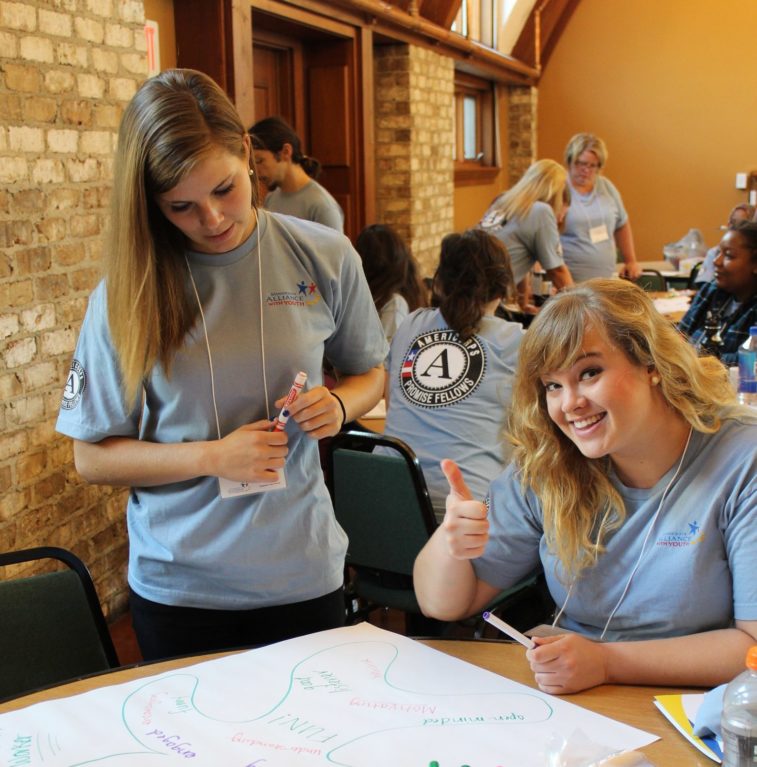 The health and well-being of AmeriCorps members is a top priority for the Alliance.
AmeriCorps Promise Fellows: All full-time AmeriCorps Promise Fellows must have health insurance coverage during their term of service. Promise Fellows may be covered under their family or spouse's health insurance plan, through the marketplace, Medicaid, or can elect to enroll in Minnesota Alliance With Youth's health insurance coverage under The Corps Network Health plan. The plan offered by the Alliance through CIGNA is ACA compliant and includes health, dental, vision, and life insurance benefits; the Alliance covers all monthly premiums for members, this coverage is not available to spouses or dependents. Coverage begins the first day of service and ends on the last day of the month that the member exits service.
AmeriCorps VISTA: VISTA provides a Healthcare Allowance benefit to Alliance VISTA members who maintain primary health coverage from another provider. This option covers out-of-pocket expenses like copayments and deductibles. A basic Health Benefits Plan is also available for those who are legally exempt from the federal requirement to maintain health care coverage. 
Support and Training
Alliance AmeriCorps members receive ongoing, extensive support and training on the program model and interventions, as well as topics ranging from interventions to education reform, the opportunity gap, building relations, conflict resolutions, and more.  You'll also have the opportunity to gain professional coaching from a Life Coach during your term of service.  Additionally, CEU opportunities are provided during the Regional, Mid-Year, and AmeriCorps Institute training dates.
Childcare assistance
The AmeriCorps Child Care Benefits Program provides benefits paid to qualified child care providers for all or part of full time member's child care costs during their active time of service with AmeriCorps.
Transportation Assistance
AmeriCorps members serving in the metro area are eligible to enroll in the Metro Transit Assistance Program (TAP). After enrolling, members receive a metro pass with $1.00 fares on metro transit for one year. 
Special Opportunity
Bemidji State University PEDL and Minnesota Alliance With Youth have a partnership to highlight their complementary programs. Individuals will be able to serve as AmeriCorps Promise Fellows and directly engage students in grades 6-12 while earning a teaching license at the same time. Learn More!
The University of Minnesota Humphrey School offers a number of benefits to AmeriCorps members. First, you will be granted automatic approval of an application fee waiver. Second, they guarantee that if you are admitted to one of their masters programs, you will be awarded a merit scholarship that at a minimum will match the value of your Segal Education Award.  To learn more, please submit their inquiry form and then send an email at hhhadmit@umn.edu.
Ready to Apply?
Apply Now